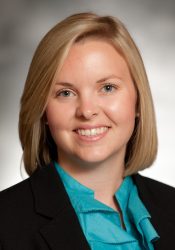 Associate Professor of Pharmacy Dr. Montgomery Green will be featured in the next issue of Pharmacy Today, the American Pharmacists Association's national publication.
The feature, "Pharmacists on the Frontline: The Fight Against Antimicrobial Resistance," features Green and her responsibilities as an internal medicine pharmacist, professor and preceptor for residents and student pharmacists to lead antimicrobial stewardship efforts.
According to the article, "Green leads daily prospective reviews in her antimicrobial stewardship program. Using a clinical decision support system, she screens for positive urine or blood cultures, infections, duplicate therapies and antibiotic treatments longer than 72 hours. She also assesses high-risk or broadspectrum antibiotics and keeps an eye out for asymptomatic patients receiving antibiotic treatment. When antibiotic misuse is flagged during the review process, Green communicates her recommendations to the prescribers." Read the full article at the link above.