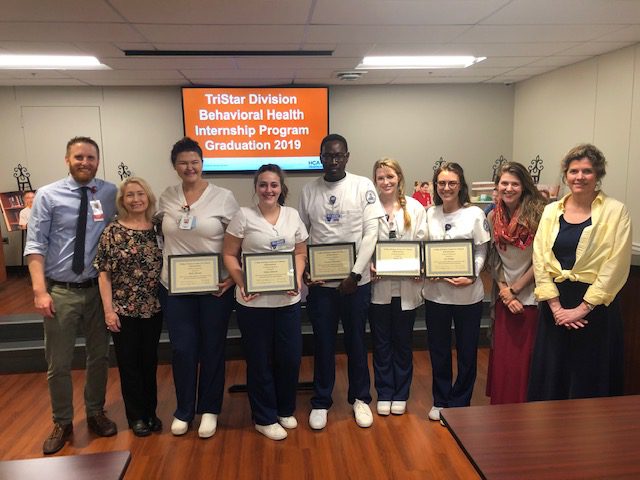 During summer 2019 five Belmont nursing students participated in the Behavioral Health Internship Program (BHIP) engaging in service learning at TriStar Centennial Medical Center-Parthenon Pavilion and TriStar Skyline Madison Hospital. This is the second year for BHIP.
The students completed 252 hours of hands-on training in a variety of specialty units at both TriStar Centennial Parthenon Pavilion and TriStar Skyline Madison Hospital which serve patients across the lifespan with diagnoses such as mood disorders, chemical dependency, dementia and psychosis.
The United States is experiencing a growing shortage of qualified behavioral health professionals which in turn leads to an increased lack of access to care at a time when suicide rates and opioid addiction are on the rise. For the past two years, Belmont has partnered with TriStar Health to offer a Behavioral Health Internship Program for nursing students who have interest in learning more about this career option.
Mrs. Diane Allen, the lead faculty member, and Dr. Leslie Folds, who helped with coordination of BHIP for Belmont School of Nursing, indicated that all involved were deeply appreciative of the nurse preceptors and the interprofessional team that mentored these nursing students.