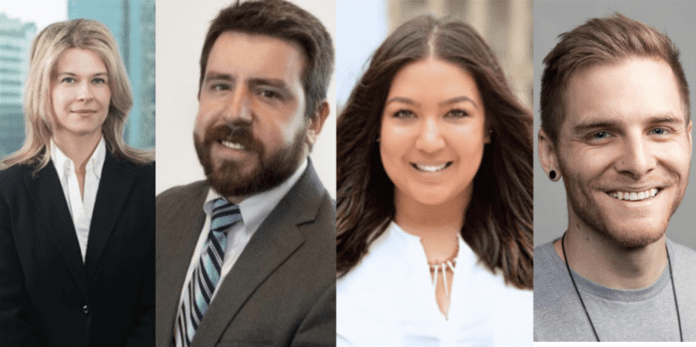 Four Belmont alumni were recently announced as a part of the Nashville Business Journal's "40 Under 40" 2021 awards. The accomplished professionals were recognized for creating a better Nashville, whether it be for their company, community or a cause. Rebecca McKelvey Castañeda, Justin Hayden, Trevor Hinesley and Melanie Jane Bull represented Belmont on the 2021 edition of the 40 Under 40 listing.
Castañeda serves on the Board of Trustees at Belmont and is the former president of the Belmont University Alumni Board of Directors. Currently a member (partner) of the firm Stites & Harbison based in Nashville and Franklin, Tennessee, she works exclusively in family law. Castañeda attended and graduated from the university in 2003 with a Bachelor of Science in political economy and broadcast journalism.
Soon to be Chief Legal Counsel of Pinnacle, Hayden graduated from Belmont in 2004 with a degree in political science and received his Juris Doctorate degree from Mississippi College School of Law. Throughout his time at Belmont, he was named American Inn of Court Outstanding Mentor of the Year.
Hinesley, also featured in the journal, graduated in 2012 with a degree in audio engineering which then led him to become co-founder and CTO of Soundstripe. The royalty-free music subscription is for podcast creators, YouTubers, wedding videographers and more.
Senior Associate at Schmidt Government Solutions, Bull was also recognized for her many accomplishments. As the public policy director for the Tennessee Disability Coalition, she handles all statewide public policy issues. Throughout her time at Belmont, Bull studied political science and economics leading her to a state legislative internship and experience with the Tennessee General Assembly.
NBJ's article shares 40 individuals and professionals in the Nashville area that have exceptionally succeeded in their careers striving in leadership, innovation and service.