Belmont School of Music students, led by Professor of Music Dr. Jeffery Ames,  made a surprise appearance on NBC last night, singing background vocals for Ed Sheeran in the nationally telecast "Elvis All-Star Tribute."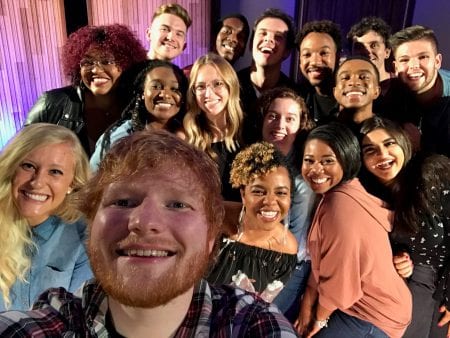 Last fall Ames received a message from Pat McMakin, director of Ocean Way Nashville Recording Studios (which is owned by Belmont), that Ed Sheeran's team was looking to assemble an ensemble to contribute background vocals on a song the artist was recording. Ames contacted 16 School of Music vocalists, both undergraduate and graduate students, and wrote the arrangement. The group rehearsed three times before taping "Can't Help Falling in Love" with Sheeran at Ocean Way last fall.
"Now that it's aired, I had no idea of the magnitude and scope this production would have," said Ames. "It truly was an opportunity to allow Belmont to shine on a national platform."
In addition, it was a tremendous learning experience for all of the students involved, allowing them to record professionally in the studio with a highly skilled and popular artist."
Freshman David Perry, a musical theatre major, said, "This experience was great knowing that right out of the gate you can find so many opportunities through Belmont and thankfully through Dr. Ames. It was so fun to make so much magic with a bunch of people who are so kind, including Ed. He's a great person."
Music education major Anna Hulst, a senior, added, "I'm just so grateful for this moment, this day, for Belmont, for Belmont's reputation, the leadership of Dr. Ames and the other students here. I could never have dreamed or imagined for something like this to have happened in my life, but I'm grateful and I'm excited to see what happens with it all."
The national broadcast of the recording occurred last night as part of the "Elvis All-Star Tribute." The two-hour program on NBC was roughly timed to mark 50 years since Presley's historic '68 Comeback Special, which resurrected the singer's music career. The lineup for the performance included Sheeran, Kelsea Ballerini, John Fogerty, Jennifer Lopez, Carrie Underwood, John Legend, Post Malone, Yolanda Adams, Shawn Mendes, Josh Groban, Keith Urban, Darius Rucker, Little Big Town, Josh Groban, Dierks Bentley, host Blake Shelton and more.
A video clip of Sheeran's performance can be viewed on NBC.com.