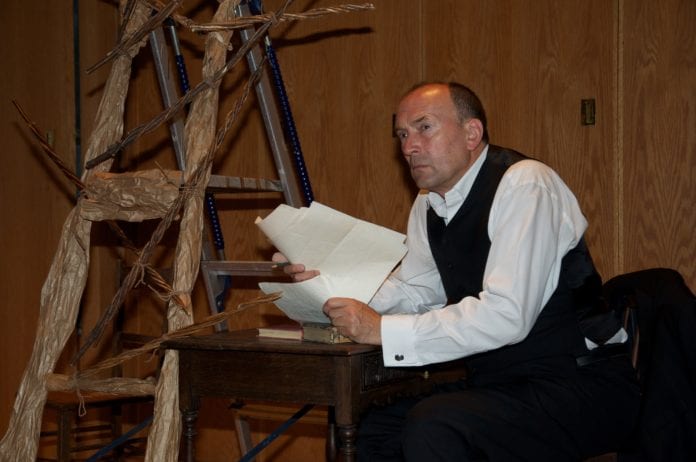 Mr. Darwin's Tree, the acclaimed British one-man play that explores the life and work of Charles Darwin within the context of science, faith and family, is coming to Belmont University's Troutt Theater on October 26 at 7 p.m. Admission is free.
Produced by Scholarship & Christianity In Oxford (SCIO), the U.K. subsidiary of the Council for Christian Colleges & Universities (CCCU), the performance will engage attendees in the important conversation on science and religion. The play is coming to Belmont as part of the "Bridging the Two Cultures of Science & the Humanities II" grant program with the SCIO institue, awarded to Physics Professor Dr. Scott Hawley. Belmont Provost Thomas Burns and Vice President of Spiritual Development Todd Lake have also participated in the program for the past couple of years.
Written by noted playwright and director Murray Watts (The Miracle Maker, KJB: The Book that Changed the World, The Dream) and starring leading British film, TV and theatre actor Andrew Harrison (Dorian Gray, Miss Marple, Beyond Narnia), Mr. Darwin's Tree has been described as "a brilliant, fast-paced and beautifully detailed performance" ("Church Times"). Both Watts and Harrison will visit Belmont's campus and host a workshop to help students explore the life and work of Charles Darwin and his impact on science and religion.
"We are fortunate that both the Belmont College of Sciences & Mathematics and Theology & Christian Ministry are comprised of Christian faculty who celebrate the fact that God used evolution to bring about the rich diversity of the Creation," said Lake. "This play vividly enacts the very first encounter of Darwin's theory and Christian thought, showing just how high the stakes are when brilliant science and biblical faith encounter one another."
"Discussing creation and evolution in abstract terms often leads to polarized and emotional debates," said Stan Rosenberg, SCIO's executive director and the CCCU's vice president for scholarship and research. "Seeing these issues in their historical context and connected to real people, by contrast, helps us to understand the complexity of the issues and to discuss them in more nuanced and less confrontational ways."
Mr. Darwin's Tree presents a very human and very real Charles Darwin, one who wrestled with the challenges that his theories posed for traditional beliefs. It also presents Darwin's wife, Emma, as an intelligent and articulate representative of Christian faith. In doing so, the play rejects the "straw man" effigies of Darwin presented by both his extreme protagonists and antagonists, providing the opportunity for lively engagement, thoughtful conversations and fresh explorations.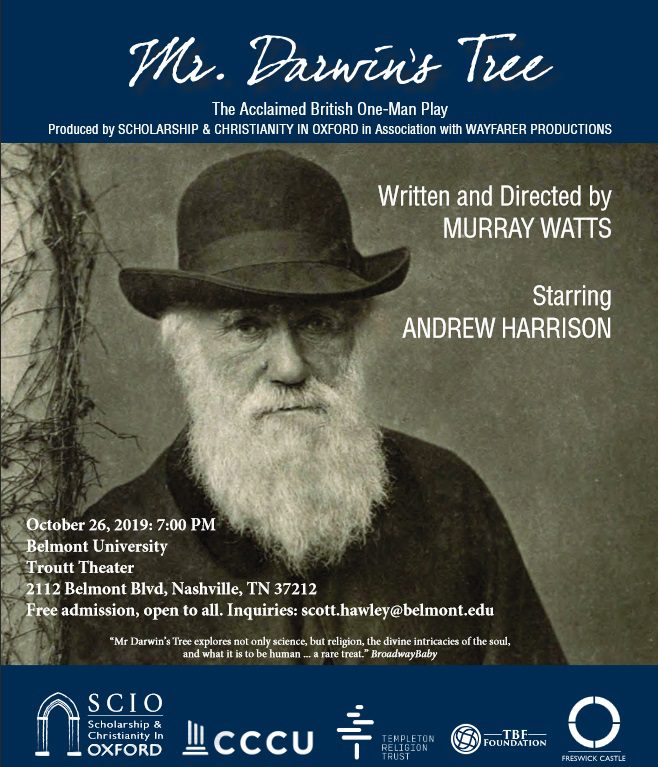 Since its 2009 premiere, Mr. Darwin's Tree has had highly successful runs at the Edinburgh Festival in 2011 and at the King's Head Theatre, London, in 2012. It has travelled to Oxford, Cambridge, St. Andrews and many other universities, colleges and theatres in both the U.K. and the U.S. The latest U.S. is underwritten by Templeton Religion Trust and the Blankemeyer Foundation.
The October 26 performance will be at 7 p.m., followed by a reception and discussion with the playwright and leading campus academics. Admission is free.
Learn more at www.mrdarwinstree.com or http://www.scio-uk.org.
About SCIO: Scholarship and Christianity In Oxford (SCIO), the U.K. subsidiary of the Council for Christian Colleges and Universities (CCCU), is a research and educational institute in Oxford, England. It strives to serve CCCU institutions in North America and elsewhere and the undergraduate, graduate and faculty members of those institutions by producing and supporting scholarship of the highest standards. It offers two rigorous study abroad programs, the Scholars' Semester in Oxford and Oxford Summer Programme, which enable undergraduates and a few graduates to develop academically and experience scholarly life at a major research university. It runs an increasing number of faculty-focused research projects, with a particular focus on the relationship between science and religion and on ancient texts. For more information, visit http://www.scio-uk.org/ and http://www.scio-uk.org/bridging-two-cultures/.
About the CCCU: The Council for Christian Colleges & Universities is a higher education association of more than 180 Christian institutions around the world. With campuses across the globe, including more than 150 in the U.S. and Canada and more than 30 from an additional 18 countries, CCCU institutions are accredited, comprehensive colleges and universities whose missions are Christ-centered and rooted in the historic Christian faith. Most also have curricula rooted in the arts and sciences. The CCCU's mission is to advance the cause of Christ-centered higher education and to help our institutions transform lives by faithfully relating scholarship and service to biblical truth. Visit www.cccu.org for more information.