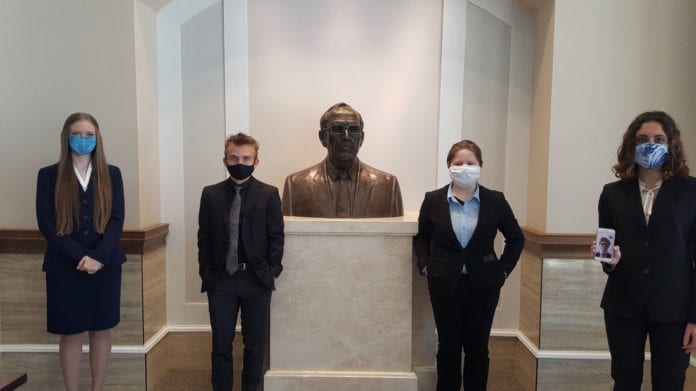 Five Belmont students competed in the 8th annual Templeton-Stetson Ethics Case Competition which was held virtually on Friday, February 19 and placed second. The Belmont Team included Amanda Barbosa, Sarah Carvalho, William Fitzpatrick, Anna Pearson and Morgan Turpin. Boyd Smith and Tony Saunders served as coaches and faculty advisors.
This year's case topic placed the Belmont Team as hypothetical consultants to Gene Lee, chair and CEO of Darden Restaurants, Inc., addressing "Covid-19 Vaccine: Freedom of Choice for Workers or Necessary Mandate for Business?" 
After observing several of the practice sessions, Dean Sarah Fisher Gardial said, "They were exceptionally well-prepared and impressive in their presentation skills. This team went to the competition ready to win. We are so proud of their performance in an impressive field of competitors." 
Belmont placed second behind Campbell University. University of Florida placed third and other competing universities included Georgetown, UMass-Amherst, United States Naval Academy, Clemson, Boston College, Penn State and University of Calgary, among others.
Smith emphasized the immense time commitment from students which exceeds 70 hours over a four week period to conduct the necessary research, develop a recommendation with implementation plan while simultaneously developing a 20-minute presentation.   
The Templeton-Stetson Competition is sponsored by the Kennedy Center for Business Ethics as a co-curricular program in the Massey College of Business. This is the fourth year Belmont has competed and has placed in the top five each year. Smith added, "We are already looking forward to next year!"