Belmont University celebrated its 2021 "Homecoming at Home" festivities this year during the week of Monday, February 15 – Saturday, February 20. Homecoming recognized the University's strong spirit of community and the bond alumni carry with them beyond graduation. Despite the challenges of the coronavirus and a week of snow in Nashville, much of the celebration was still able to proceed virtually.
Belmont featured COVID-safe events that allowed students, faculty, staff and alumni to participate on their own time including a Virtual Polar Bear 5K Challenge, a Belmont Athletics Pop-Up Scavenger Hunt and exclusive discounts from The Belmont Store.
"The goal was to continue to 'Defend our Den' while following the established safety protocols, and simultaneously working to expand the cherished traditions of Homecoming," shared Director of Alumni Relations Julie Thomas. The University did just that and continued to successfully celebrate the Belmont spirit and pride virtually throughout the week.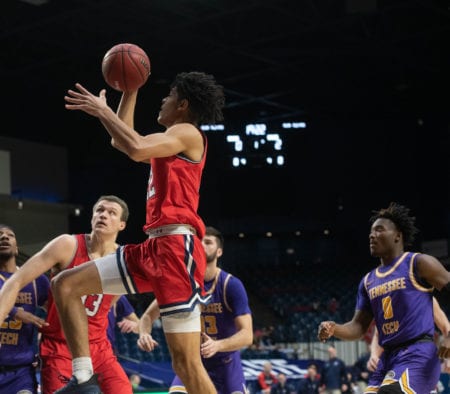 The Men and Women's Basketball brought home spectacular victories on Homecoming Saturday with the Men's Basketball vs. Tennessee Tech winning 90 – 66 and the Women's Basketball vs. Tennessee Tech winning 73 – 61. The Homecoming Court also announced its 2021 Homecoming King as Damarius Drumwright and Homecoming Queen as Erica Olfson.
The University's Homecoming Community Service Initiative with the PENCIL Foundation was also a central focus of the week where pencil donations were collected at the Foutch Alumni House and the Office of Service-Learning throughout the month.
The week featured a set intention for each day including Mission Monday, T-shirt Tuesday, WOW Wednesday, Thank You Thursday and FANtastic Friday. A recap and some highlights of each day's events is listed below.
Mission Monday: February 15
Belmont Alumni who own or work with area non-profits imparted knowledge to students at the Virtual Alumni Non-Profit Fair.
The annual Build-A-Bruin competition was a week-long success where students and organizations were able to pick up supplies to decorate their own bear for Homecoming.
Local non-profits spoke on a panel for Radical Generosity: Helping Others in the Midst of a Pandemic reminding and humbling students of those that are hurting and in need.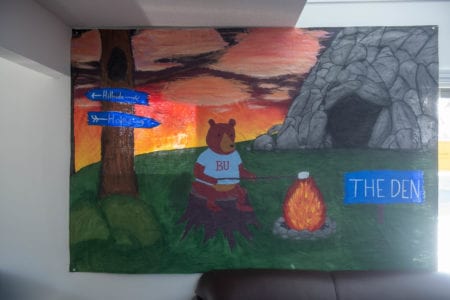 T-Shirt Tuesday: February 16
Students heard from Casey Alexander, Men's Basketball Head Coach, and Bart Brooks, Women's Basketball Head Coach, for Coffee with the Coaches.
Students worked week-long on Residence Life banners for the annual Homecoming Banner competition.
The T-Shirt Tuesday extravaganza was postponed and students were able to pick up their free Homecoming T-Shirts on Friday to commemorate another year of life at Belmont.
WOW Wednesday: February 17
Homecoming Bruin Break: The Early Belmont Days featured Belmont alumni who shared their past stories and talked about faculty and staff that helped shape their post-graduation experience.
Students and alumni attended the College of Business Virtual Mixer.
Young Alumni Trivia Night was a night of fun and shared with participants that Teddy Roosevelt visited campus back in the Belmont-Ward days.
The Virtual Murder Mystery Event occurred thanks to Belmont's Department of Theater and Dance with actors leading participants through an evening show with a rehearsed performance and audience interaction.
The Belmont Women's Basketball team took home a victory.
Thank You Thursday: February 18
Belmont Faithful members were treated to an annual "thank you" luncheon, althought postponed to February 25.
Belmont's Basketball Double Header on ESPN + was a double victory with the Women's Basketball vs. Jacksonville State Game finished at 54 – 53 and the Men's Basketball vs. Jacksonville State Game concluded at 63 – 59.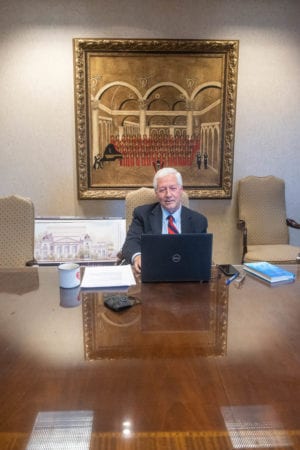 FANtastic Friday: February 19
Alumni were invited to participate in "a safe and brave space to voice all opinions," at the Alumni Real Talk: Diversity, Equity and Inclusion in the Workplace.
Belmont President Dr. Bob Fisher spoke at the Homecoming Chapel on "What Really Matters."
Homecoming Saturday: February 20
The Belmont community went on a Virtual Guided Prayer Walk Through Campus.
Students learned about the impact COVID-19 has had on Healthcare Delivery.
The Presidential Scholars Virtual Homecoming Gathering: A BOLD Leadership Experience took place.
Belmont Women's Basketball vs. Tennessee Tech brought home another win at 73 – 61 alongside the Belmont Men's Basketball vs. Tennessee Tech with a win of 90 – 66.
The 2021 Homecoming Court crowned its Homecoming King Damarius Drumwright and Homecoming Queen Erica Olfson.
Campus listened in as the Homecoming Carillon Concert took place at the Bell Tower.
With the unexpected inclement weather, some of the events have been postponed. See below for upcoming events:
Homecoming Continued:
WOW Wednesday Popcorn Palooza will take place on Wednesday, Feb. 24 in Harrington Dining Hall.
The Belmont Faithful Take-Away Lunch has been rescheduled for Thursday, Feb. 25.
The University thanks students, faculty and staff for a different, but a successful homecoming. For any further questions regarding homecoming, please contact our Alumni Office.