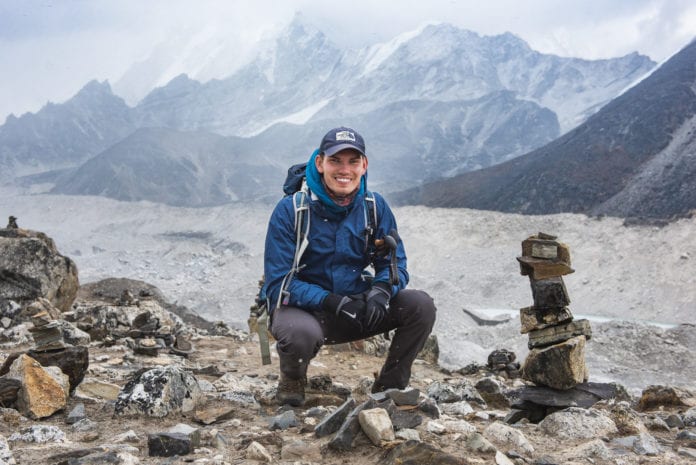 On Friday, September 27, Belmont students had the opportunity to hear a presentation titled "The Dark Side of Everest" from Jordan Dunn, a May 2019 graduate. While studying at Belmont, Dunn was a double major in economics and information systems.
As a beneficiary of the Lumos Scholarship, Dunn trekked through Sherpa villages across the Himalayas to learn the story of the Sherpa people, aid the Annapurna Conservation Area Project (ACAP) and work in health in Kathmandu. While in Nepal, he focused his trip on education, healthcare, economics and conservation.
With more than 5,000 people having summited Mount Everest, it is no surprise that the mountaineering and tourism industries have greatly evolved and developed in Nepal. As one of the poorest countries in the world, the growth of tourism helped Nepal to grow their economy by six times between 1990-2017. Dunn shared about the impoverished population living in the country, as well as the challenges that have risen in the midst of tourism and mountaineering.
Although the growth in their economy helped financially, Dunn expressed concerns about the Sherpa population, a very small ethnic group in Nepal well known for living in the mountains. Dunn described them as a strong, loyal and hardworking people. Unfortunately, the influx of tourists attempting to climb Everest resulted in the exploitation of the Sherpa.
Visitors and tourists pay the Sherpa to lead them through the mountains which has created an economic trap. The Sherpa are now stuck between mountaineering with tourists or farming as their only options for income. Due to the little knowledge of life in the mountains, tourists often make poor decisions in their treks, leaving the Sherpa no choice but to follow along and put their lives at risk.
"My hope is to take all of this and work for the next few years to make a big impact in the future and contribute to Nepal in a bigger and better way," said Dunn.
The Belmont Lumos Scholarship is awarded to young adults ages 18 to 26 and enables recipients to embark on a self-designed international working adventure. For a minimum of eight weeks, recipients explore, engage and immerse themselves in local communities to deepen their understanding of an issue, project or idea that impassions them.
To learn more about Dunn's experience and see more of his photos from Nepal, visit his travel blog.