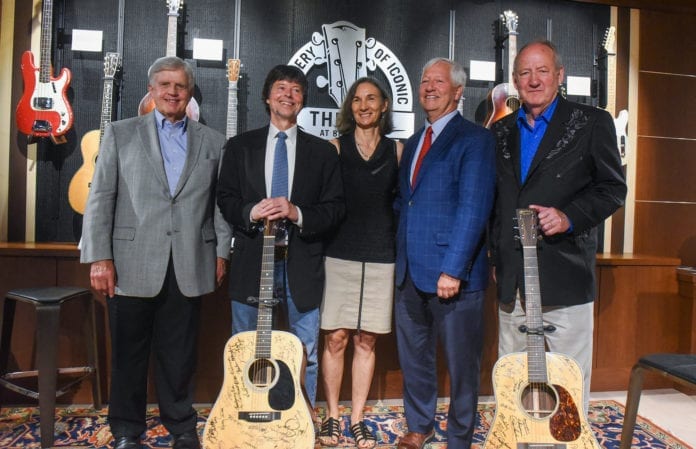 COUNTRY MUSIC director Ken Burns today joined Belmont University President Dr. Bob Fisher to unveil two Martin D-28 Guitars signed by 76 of the 101 country music artists interviewed for the highly anticipated eight-part, 16-hour film scheduled to premiere on PBS stations on September 15.
Among the signatures on the guitars, which will be on display in Belmont's Gallery of Iconic Guitars, are: Merle Haggard, Dolly Parton, Willie Nelson, Vince Gill, Reba McEntire, Kris Kristofferson, Brenda Lee, Loretta Lynn, Garth Brooks and others. Thirty-seven of those who signed the guitars are Country Music Hall of Fame members. Fifteen have since passed away.
In addition, Burns announced a collection of educational resources prepared by PBS and Belmont faculty that will reach middle and high school students across the country.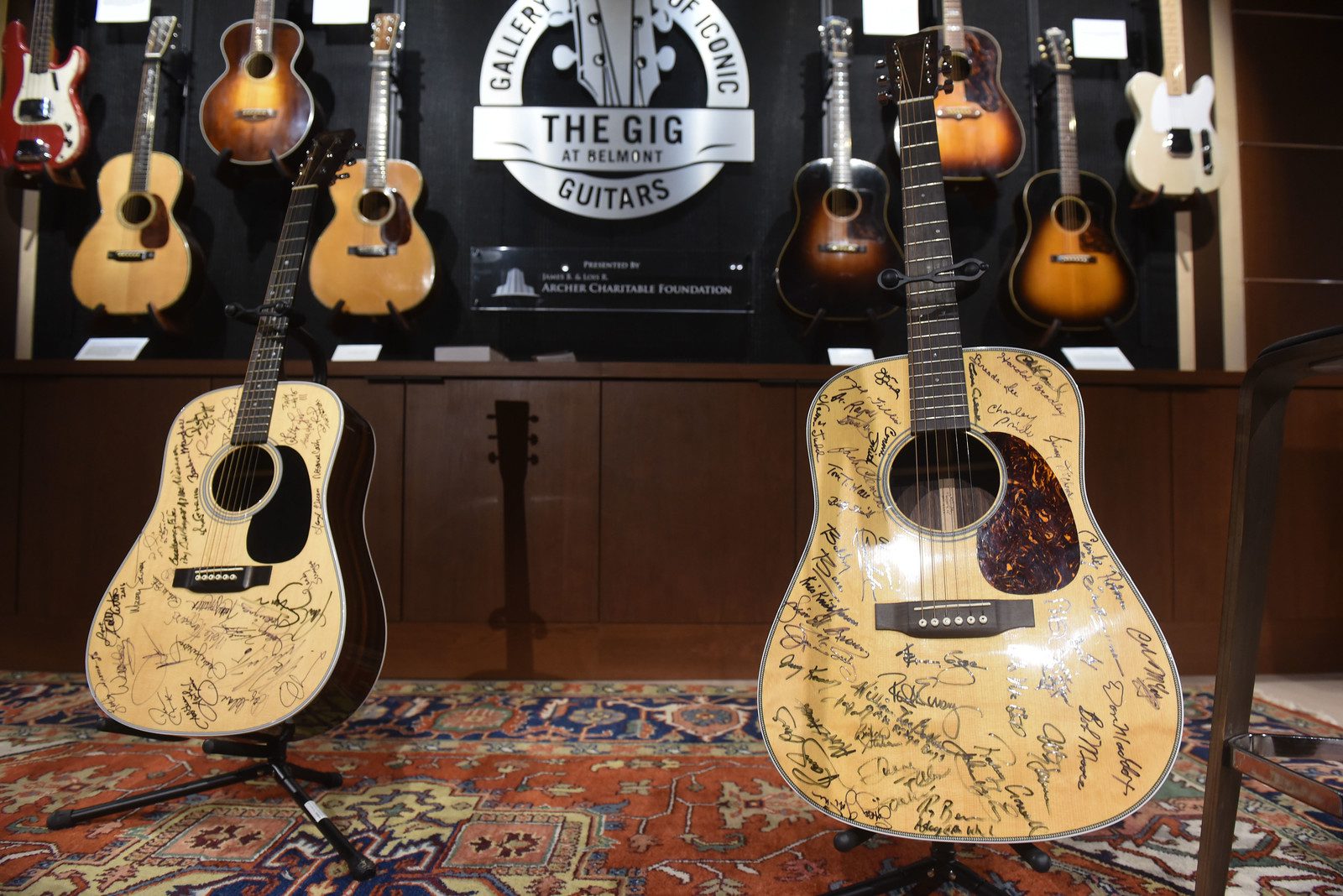 The materials, including video and lesson plans drawn from the research that went into the film, will explore American history through country music, illustrating the extent to which this distinctly American art form reflects the times in which it evolved. Materials will cover the musical style, the genre's history, and the workings of the music industry. Students and teachers will be able to access the collection for free on PBS Learning Media which reaches one million users each month throughout the school year.
"As with all of our films, we work with partners to help teachers and other educators share this history with students," said Burns. "The history of country music provides an engaging, thoughtful and often soulful way to help students understand unique parts of the American story. Perhaps most importantly, from this unique art form, which was created by so-called ordinary Americans often struggling with extraordinary hardship, we see how the 'rub' of American cultures gives birth to country – and really gives birth to who we are as a people."
Belmont President Dr. Bob Fisher added, "Belmont's lengthy history as a magnet for young people interested in studying music, songwriting, performance, motion pictures and the entertainment industry made our sponsorship of COUNTRY MUSIC a perfect pairing. We are honored to now be able to showcase the signed guitars that serve as such a unique and visible emblem of this project, but we're even more excited to demonstrate the talents of our faculty to high school and middle school students across the country. These men and women are experts in their fields and can lend great insights to country music's role within, and impact on, American history."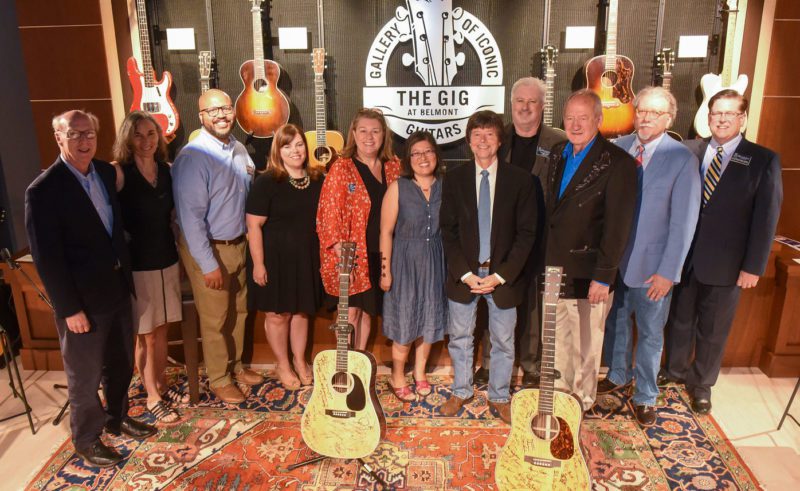 Belmont faculty participating in the COUNTRY MUSIC curriculum include Dr. Don Cusic (music business), Dr. Jeremy Lane (music), Dr. Sarah Blomeley (English), Dr. Nancy Riley (music), Dr. Lauren Lunsford (education), Eric Holt (music business), Dr. Amy Smith (music business), Dr. Ryan Fox (math) and Dr. Mark Hogan (education).
COUNTRY MUSIC digs deep to uncover the roots of the music, including ballads, minstrel music, hymns and the blues, and its early years in the 1920s, when it was called "hillbilly music," and was recorded for the first time and played across the airwaves on radio station barn dances. It explores how Hollywood B movies instituted the fad of singing cowboys like Gene Autry and shows how the rise of juke joints after World War II changed the musical style by bringing electric and pedal steel guitars to the forefront. 
The film witnesses the rise of bluegrass music with Bill Monroe and reveals how one of country music's offspring — rockabilly — evolved into rock and roll in Memphis. Throughout, the documentary focuses on the constant tug of war between the desire to make country music as mainstream as possible and the periodic reflexes to bring it back to its roots.
As Burns and Dayton Duncan, the film's writer and producer, weave together the musical stories, they connect the history of country music to the larger story of America, looking at how artists and songwriting reflected periods of depression, war and cultural upheaval, and how radio and later television impacted the art form. The series also tells the story of how Nashville came to be not only the epicenter of the country music industry, but Music City USA.
COUNTRY MUSIC boasts nearly 600 music cues over the 16 hours and in the fall of 2019, Legacy Recordings, a division of Sony Music Entertainment will release a comprehensive suite of soundtrack music products timed to the PBS broadcast of COUNTRY MUSIC.
Funding for COUNTRY MUSIC was provided by Bank of America, the Annenberg Foundation, the Arthur Vining Davis Foundations, Belmont University, Tennessee Department of Tourist Development, the Metropolitan Government of Nashville and Davidson County, Rosalind P. Walter and by members of 'The Better Angels Society,' including: The Blavatnik Family Foundation, the Schwartz/Reisman Foundation, the Pfeil Foundation, Diane and Hal Brierley, John and Catherine Debs, the Fullerton Family Charitable Fund, the Perry and Donna Golkin Family Foundation, Jay Alix and Una Jackman, Mercedes T. Bass, Fred and Donna Seigel, Gilchrist and Amy Berg, James R. Berdell Foundation, David Bonderman, Deborah P. and Jonathan T. Dawson, Senator Bill and Tracy Frist, Susan and David Kreisman, Rocco and Debby Landesman, Lillian Lovelace, John and Leslie McQuown, Mindy's Hope Foundation, the Segal Family Foundation, Michelle Smith. Major funding was provided by the Corporation for Public Broadcasting and PBS.
COUNTRY MUSIC is a production of Florentine Films and WETA, Washington, DC. Directed by Ken Burns, written by Dayton Duncan, and produced by Duncan, Julie Dunfey and Burns.