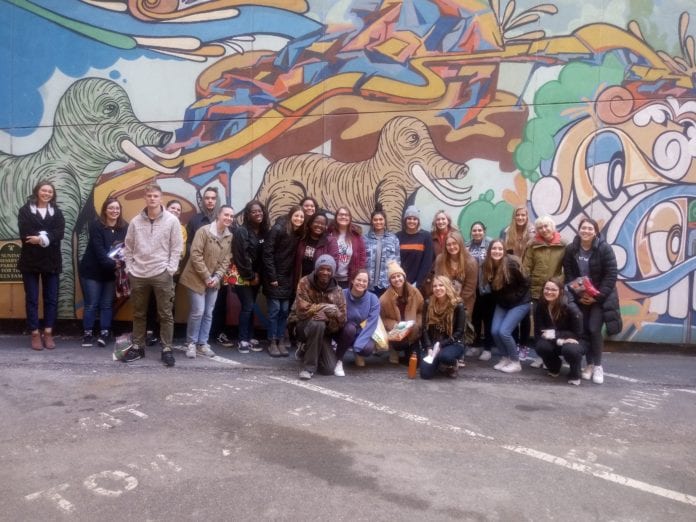 On February 27, Dr. Sabrina Sullenberger, professor of social work, and Dr. Amy Hodges Hamilton, professor of English, took students on a classroom excursion in Nashville with local nonprofit Open Table Nashville. The professors teach an Interdisciplinary Learning Community (ILC) called Trauma Studies, combining a social work course on human behavior and social environment with a writing course centered on trauma and resilience.
"Nashville isn't the 'it city' for everyone. Being able to think about our privilege in the quiet space of a downtown church building, after hearing someone share their story of trauma and homelessness while seeing their resilience is powerful," stated Dr. Sullenberger, a proud board member of Open Table Nashville. "I love the ability to take students on the immersion because they get to hear someone's story in a context more powerful than a classroom."
"I think one of the most exciting parts of the Interdisciplinary Learning Communities course structure is this ability for students to not only see the connection between two different disciplines but to also have the opportunity to go out into the community and engage with the material in a real, tangible way," explained Dr. Hodges Hamilton. "The Open Table Immersion does just that, and I'm always so grateful for the opportunity to learn more about how we can move the theory of trauma and resilience into action."
Students and faculty traveled to Church Street Park in downtown Nashville to meet Lindsey Krinks, a co-founder of Open Table Nashville. The nonprofit is an interfaith homeless outreach organization that disrupts cycles of poverty, journeys with the marginalized and provides education about issues of homelessness.
Stepping off the bus, students were guided through an urban immersion tour led by Krinks. She gave shocking statistics about homelessness in Nashville and shared success stories of securing housing for friends on the streets. Krinks invited her dear friend Brian Jones to share his own story of homelessness and the journey to housing. His story of trial and resilience touched the hearts of students and faculty.
Freshman McKenzie Martin shared, "When I met Brian, it was evident that he was love, service and courage personified. Despite the trials he's survived, Brian actively seeks ways to help others. In a world so often consumed by selfishness, he's willing to lend a hand, a snack and even a hug to all he encounters. Through the immersion, Brian taught me that leading a life of love has the power to conquer all. I left the trip immensely inspired to be a light to those around me, just like Brian."
Belmont University's ILC links two courses by the same topic or issue, showing students that all the various academic disciplines are interconnected. The instructors teaching the course work collaboratively to explore a connection between the two disciplines.
Alumna Claudia Christensen graduated from Belmont in May 2019 and had a powerful experience with a similar ILC, including the same writing course paired with a sociology course focused on social problems. She said, "My ILC completely changed my plans, my heart and my life. After falling in love with the course materials, I switched my major to sociology and added a writing minor. Through engaging with the community, performing sociological research and writing my own story, I was able to fully understand the power words have to transform and heal. My ILC was one of the most important pieces of my education at Belmont, and I will forever be grateful that I had the privilege to be a part of something so special."