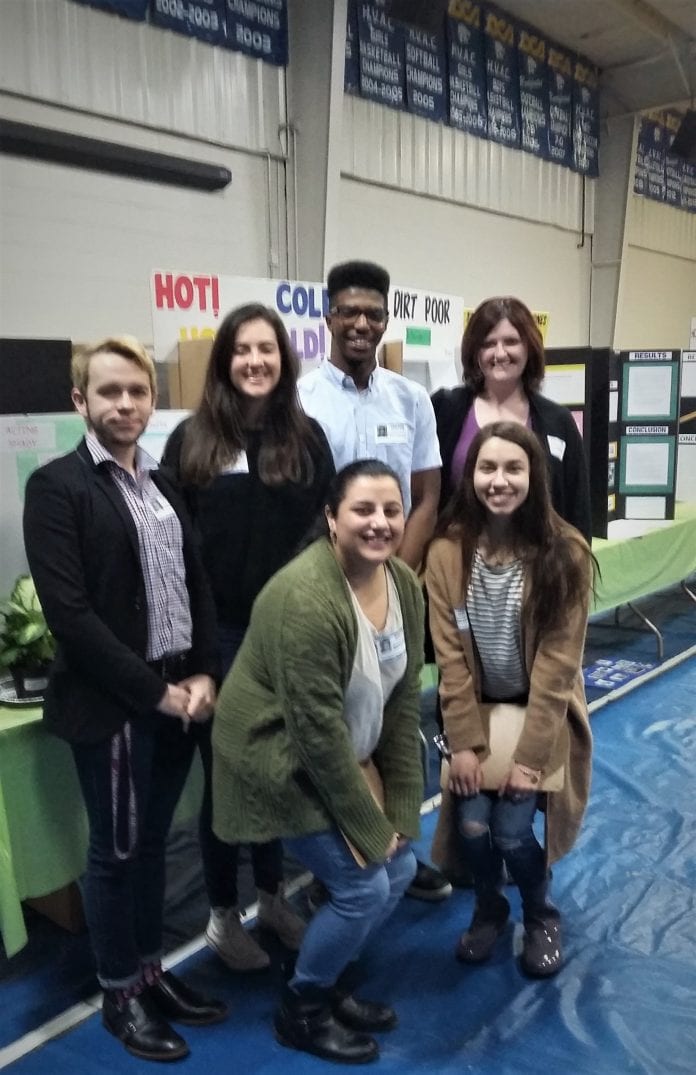 For the second year in a row, Dr. Danielle Garrett, assistant professor of chemistry education, was invited to judge the Donelson Christian Academy (DCA) 6th – 8th grade science fair. Belmont undergraduate students Christopher Hansen (chemistry & French double major), Alex Ficarro (neuroscience major), Deviyani Bajpai (neuroscience major), D Newsome (computer science major) and Clancy Lyles (economics major) assisted  Garrett as judges. More than 80 projects were on display featuring a variety of topics that included both the physical and biological sciences.
"I was so glad to be invited back again to help judge the DCA science fair," Garrett said.  "Across the board, the projects this year were extremely creative."
Garrett and Belmont students split the judging responsibilities, with 2 people in charge of determining which projects placed for each grade. After judging was complete, they chose the award for Best in Show. "The Belmont students who volunteered hours of their time to help with the science fair were amazing," Garrett said.  "It was wonderful to see how excited and enthusiastic they were about making a positive contribution to the DCA school community."
"Science fairs are so important because even though kids that age don't really know what they want to be, they get to have a taste of what scientific research is actually like. Taking science out of the classroom allows kids to understand that science isn't just something to be learned, but discovered," Ficarro said.
When asked about their overall experience with the science fair Newsome said, "Having the opportunity to be a science fair judge this week was a very perceptual experience for me. Until this, I was on the student side of the science fair, the one having a project graded, hoping it was good enough for whoever judged it. It was very cool to be on the other side for once. It was really refreshing to take a step back from college sciences to see how 6th-8th Graders take an interest in their projects."
Hanson shared a similar view. "The science fair was eye opening," he said. "I never really participated in an event like this while I was a grade school student – I think it really fosters appreciation for scientific discovery. After reading all the posters I found that the projects themselves have so many tacit lessons. Of course, science itself, alongside spelling and grammar, but I think it also teaches critical thinking, collaboration, and creativity – skills that are not taught directly in the classroom."