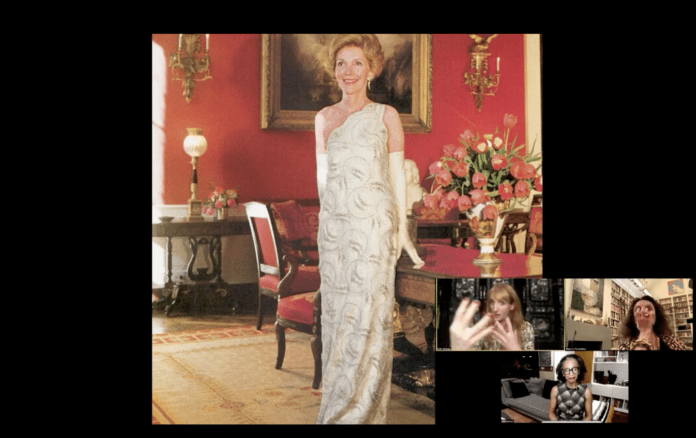 For the final event of Belmont's White House Style series, "Dressing for the White House," host Libby Callaway was joined by two of her friends in the fashion industry. Special guests Robin Givhan, Washington Post fashion critic, and Diane Von Furstenberg, fashion designer, are both highly acclaimed fashion professionals and joined Callaway for a discussion over the President and First Lady's occasional attire. The series is sponsored by the O'More College of Architecture and Design as part of Belmont's host role for the October 22 Presidential Debate. 
Both emphasized that the First Lady's fashion style and choice of attire for special occasions are always well-thought-out. The two discussed the elegance and significance each of the First Lady's outfit has, with special attention to the inauguration piece. The inauguration pieces are donated to the Smithsonian or another D.C. museum and are deemed as "a gift to the country."
Additionally, the two discussed the First Lady's choice to not wear American designers on large occasions. Givhan stated that, "the American first lady has a responsibility to wear, celebrate and uplift the American culture." The two discuss the importance of presidential attire also supporting American craftsmanship.
Throughout the night, Callaway shared pictures of past First Lady's significant, elegant and sometimes controversial outfits to discuss. Both fashion professionals discussed and admired the style and elegance of First Lady Jackie Kennedy. She had the perfect diction, look, education and "was the American ideal," both Givhan and Von Furstenberg stated. 
Each piece of the outfit is crucial to the representation of the First Lady's style and persona. "People should be themselves, and they should be the best of themselves," Givhan shared. Callaway used the example of a necklace First Lady Nancy Raegan wore that demonstrated her maternal and warm elegance that tied into the legacy of her time as the First Lady of the U.S.
The night concluded by talking about the position of the First Lady and Givhan shared that, "the first lady position can be a really powerful place to be." The designer and journalist discussed their perspectives and opinions on various outfits and choices of each First Lady and the legacy each left on the United States.