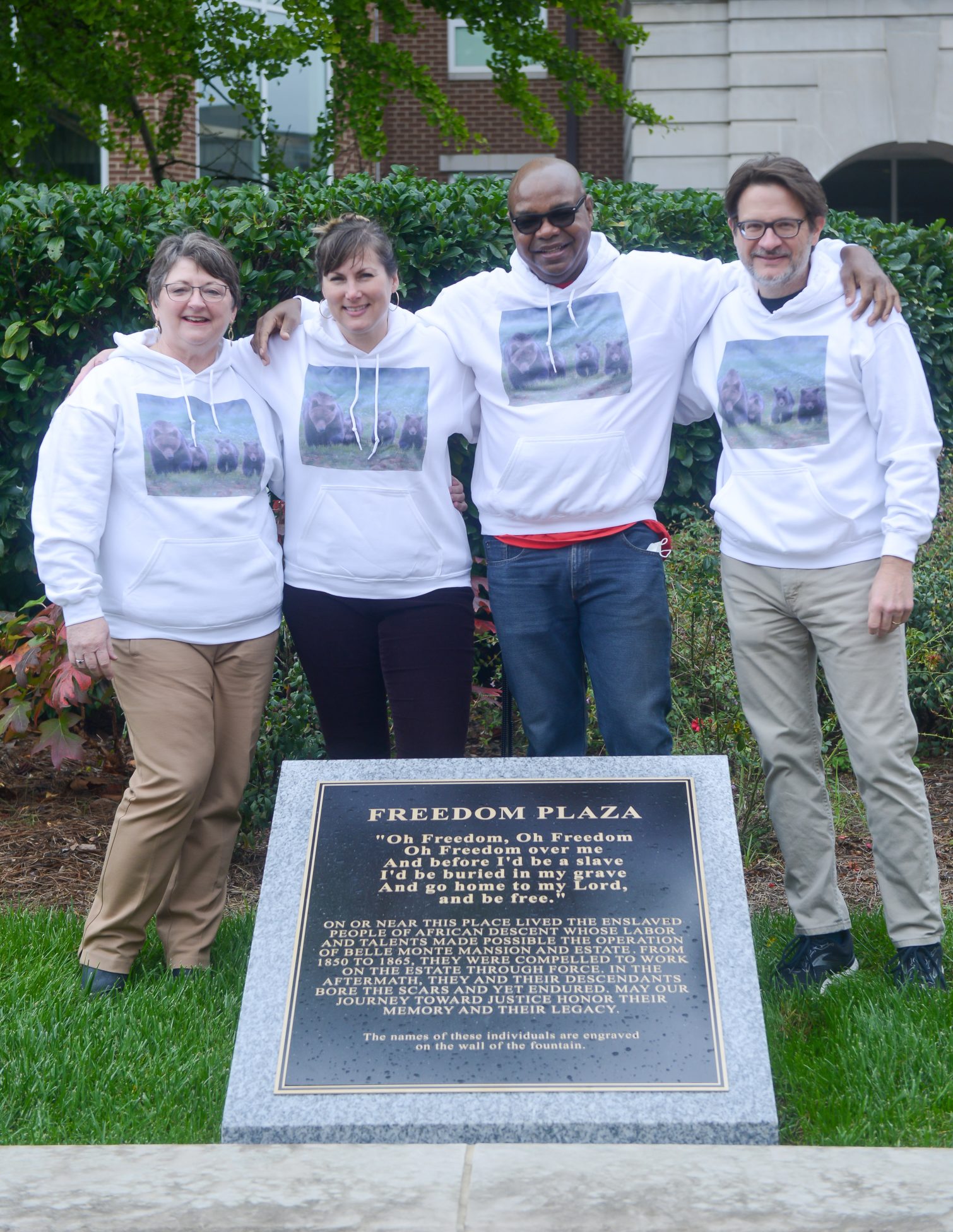 The Faculty Senate subcommittee that organized Belmont University's efforts to dedicate the area surrounding the campus' iconic fountain and name it Freedom Plaza in early 2021 recently met at the space to recognize the initiative's impact and commit to further action. The four faculty members were tasked by the Senate in July 2020 to create a monument or marker to address "the relationship between the land on which Belmont sits — along with all the institutions that have been on it — to the practices of slavery, white supremacy and racism." 
The memorial, now known as Freedom Plaza, was erected to honor the lives of the enslaved individuals who are known to have labored on the estate owned by Joseph and Adelicia Acklen more than 170 years ago, prior to the establishment of Belmont College. The entire Belmont community was instrumental in the creation of the plaza, surpassing the $10,000 goal initially set by the Faculty Senate and raising close to $30,000 for the Plaza's creation.  
"This past year I've learned what it truly means to put words into action, and I am incredibly grateful for the opportunity to work with these three outstanding colleagues on a project that I pray teaches all of us to acknowledge the past in order to move forward in hope and humility," said Associate Professor of Theatre Jessica Mueller.
In addition to sponsoring the memorial, the 2020 Faculty Senate also led a number of new and expanded initiatives related to educational efforts around diversity and inclusion, including the creation of a diversity and inclusion resource guide to assist faculty with course development; partnering with the Teaching Center to provide diversity, equity and inclusion workshops; and prompting initiatives to encourage first-year and other courses to discuss and write about racism and anti-racism efforts, among other projects.
"In the 33 years I've been part of Belmont University, this project is the most significant I've seen—because it's not simply about looking forward as Belmont has been inclined to do. It's about looking back to acknowledge and reckon with the enslaved people whose sacrifices have been foundational to this institution's progress. By facing the history out of which Belmont University has emerged and embracing those who forged the place that has nurtured us, we are all enlightened and enriched—and Belmont's identity is deepened, refined, and authenticated," said Dr. Annette Sisson, professor of English.
Picture caption: Faculty Senate Memorial subcommittee members from left: Dr. Annette Sisson, professor of English; Jessica Mueller, associate professor of theatre; Dr. Anthony Blash, associate professor of pharmacy and Dr. Andy Watts, professor of religion.