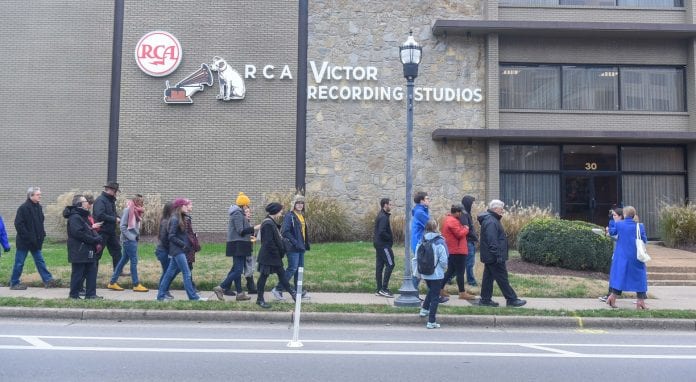 Thanks to a special project from Honors Professor of Practice Dr. Mary Ellen Pethel, Belmont students were able to engage with an exciting and emerging new field during the fall semester, digital humanities. Pethel recently completed a post-doctorate certification in digital public humanities, an academic field which applies technology and digital resources to traditional humanities disciplines such as literature, history and philosophy.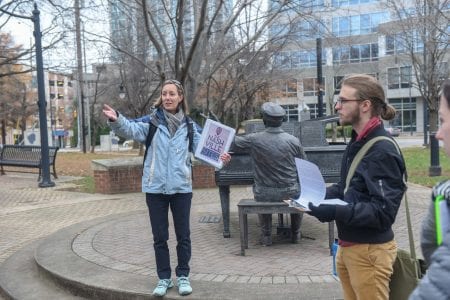 Pethel said, "Digital Humanities is transforming the ways in which we learn and teach within the humanities and social sciences. Course offerings and project opportunities related to digital methods, skills, and scholarship places Belmont on the leading edge in this field. Digital Humanities at Belmont allows students to pursue a project that results in scholarship that lives online and allows individuals and groups to participate as both producers and consumers."
For Pethel's final project for her certification program, she decided to create a historical, digital walking tour of several historic sites in downtown Nashville. With funding and support from many community stakeholders, including Belmont, Pethel saw an opportunity to include her students in her research. Called Nashville Sites, the mobile-friendly website is expected to launch in fall 2019 with approximately 20 walking or driving tours of Nashville including "Civic and Public Spaces," "Food for Thought" (based on historic restaurants and buildings), "Architecture" and "Gulch History (1860-1900)."
"The goal," she said, "is to attract and engage a wide audience to learn more about Nashville's historically and culturally significant sites through images, text, navigation, audio narration, and credible information."
A Nashville history expert and author of the recently released book "Athens of the New South," Pethel sought two primary learning outcomes for her Digital Humanities Honors course: "to explore the history and significance of Nashville in the context of cities in the human experience and to develop analytical and technical skills related to the field of Digital Humanities." The four students in the pilot course were challenged to create a walking tour of Music Row for their final exam. Though their work will eventually be added to the Nashville Sites website, the infrastructure for that site is still in development so the students led the tour in person in early December.
Biology major Grace Hurley took the course for her Honors seminar because she was interested in finding out more about the meaning of "digital humanities." "The most challenging aspect was finding all the specific information about the building, like what it used to be or who built it. I had to contact many of the businesses and go into city records. In this class I gained many research skills and learned a great deal about Nashville through the process."
The course will be offered again in the spring with more students participating in producing additional tour content. In addition, current audio engineering faculty and students are doing narrations and offering help with recording, editing and exporting files for the tours, which will be available in audio or text versions on the website.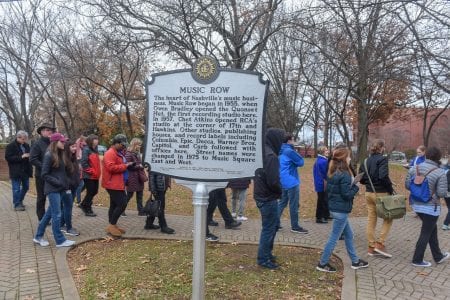 But Belmont isn't the only local organization assisting with the project. The Metro Historical Commission Foundation and the Convention & Visitors Corporation along with several individual donors are all supporting the creation of Nashville Sites. Other universities are involved as well, with an intern from Vanderbilt and narrators from Tennessee State contributing.
When complete, physical medallions will be placed on signs throughout the city, providing QR codes to connect to the tour website. Pethel believes Nashville Sites will offer the city's natives and tourists alike engaging, self-directed, historically accurate tours of Nashville that are scholarly and ad free.
"From Honky Tonk Row to our very own Parthenon, the Nashville story will be in the palm of your hand. Locals and tourists alike can visit our historic and cultural landmarks or explore a world hidden in plain sight. Nashville Sites will offer informative and adventure-style walking tours that allow users to see and experience Music City in a whole new way."