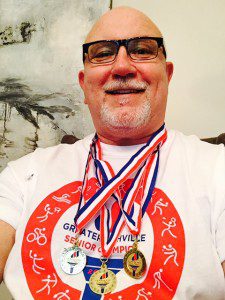 Jack C. Massey College of Business Dean Dr. Pat Raines recently competed in the Tennessee Senior Olympics, a wide-ranging competition for athletes ages 50 years and over, and took home a number of prizes.
Raines placed in three events in the state finals including a second place finish in the free throw shooting competition, a second place finish in the three point competition and a third place finish in the hot shot competition, a game played on the basketball court where competitors shoot baskets from all over the court.
Additionally, Raines placed fourth in the shot put and softball throw competition.
For more information, click here.