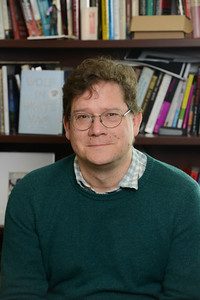 Dr. David Dark, assistant professor of religion and the arts, sat down with Belmont alumna Katie Pruitt on her podcast "The Recovering Catholic" to share his insights on the complexities of faith and religion. 
"True religion, good religion, is based in questions; is based in skepticism; is based in inquiry. Whereas bad religion, or I would say, false religion, is a monologue; is shutting people down; is trying to control people," Dark advised. 
The premise of the episode is to discuss some of the obstacles people might face when encountering religion. Dark called upon his expertise in Biblical historical context to debunk a number of misconceptions surrounding faith.
"Religions are whatever cultures happen to have power in any given context… Religion is culture and we never get out of culture. We're always cultivating it in one way or another," Dark said.
Dark has published a number of books on theology in addition to having his writing in publications such as the Nashville Scene, MTV News, America Magazine and The Tennessean.
Listen to the episode here.