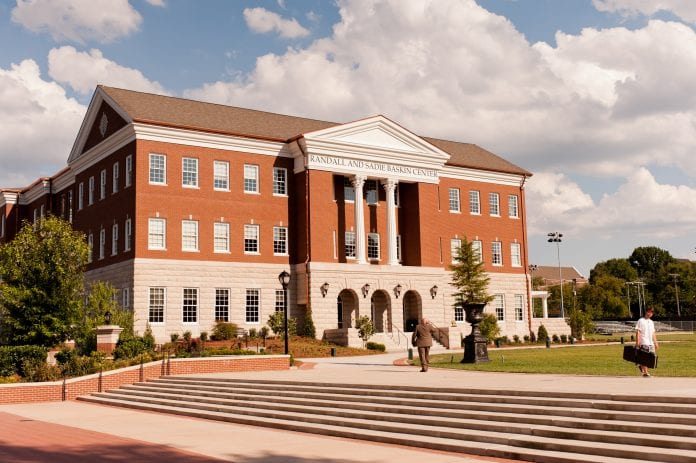 Belmont University College of Law alumnae Mallory Acheson, Danielle Johns, Ann Hogan Murphy, Ann Rals Niewold-Brown and Samantha Simpson were honored by the Middle Tennessee Chapter of the Cystic Fibrosis Foundation in the 2020 class of Nashville's Top 30 Under 30.
"I am truly honored to be included in the 2020 class of Nashville's Top 30 Under 30 and raise awareness and funds for those living with cystic fibrosis through the Cystic Fibrosis Foundation," shared Johns. "I moved to Nashville for law school without any connection to the city. Belmont opened many doors and offered a wide range of opportunities which gave me the ability to engage in the legal and civic community right from the start. Through Belmont, I have met life-long mentors, served on the board and volunteered for a number of local non-profits, and gained priceless practical experience. Without these opportunities, I wouldn't be where I am today."
Each year the Middle Tennessee chapter of the Cystic Fibrosis Foundation announces Nashville's Top 30 Under 30, which recognizes the city's most active young professional and philanthropists under the age of 30.
The foundation has a 16-week recognition program and philanthropic competition raising funds for the Cystic Fibrosis Foundation's work. Honorees are nominated by co-workers, friends and family for their contributions to Nashville's charitable and professional fields.
"We had so many outstanding young professionals nominated this year, which is a testament to how many talented young professionals there are in Nashville," said Heather Hines, development director for the Cystic Fibrosis Foundation of Middle Tennessee. "We are very proud of this year's group and look forward to seeing them better the community and spread cystic fibrosis awareness."
Since 2009, Nashville's Top 30 honorees have raised more than one million dollars to support the mission of the Cystic Fibrosis Foundation, the world's leader in the search for a cure for cystic fibrosis.
On Feb. 1, 2020, the honorees will be acknowledged at the Top 30 Under 30 celebration gala event at the Sheraton Hotel at 6 p.m. The event is open to the public and will highlight each honoree's accomplishments as well as feature a silent auction. Click here for more information about the event and each honoree.