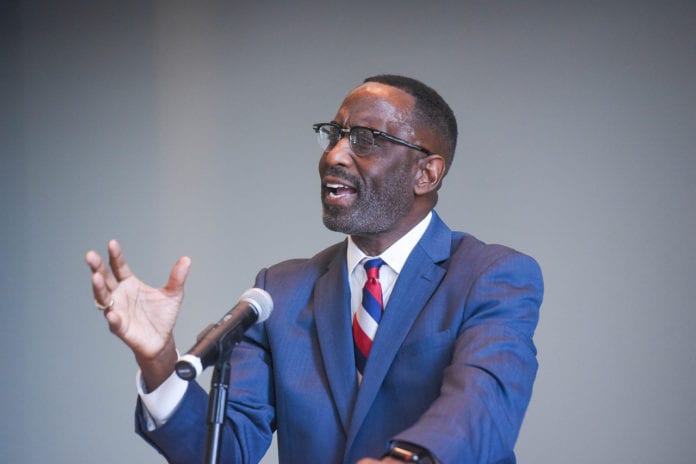 In the Janet Ayers Chapel on Monday, Dr. Kevin Cosby delivered a message titled "Thunder or Angels" to Belmont students and visitors.
Cosby has been the senior pastor of St. Stephen's Church, the largest African American church in the state of Kentucky, for the past 40 years. He is also the author of five books and has served as the president of Simmons College in Louisville, Kentucky, the nation's 107th historically black college, for the past 14 years.  
"Whenever we are living a life of service and not a life of selfishness, there will always be two voices in your head. One is the voice of thunder, and one is the voice of angels. Whatever voice we listen to will determine whether or not we will truly serve humanity," Cosby shared.
He spoke about the choice presented to Jesus when he was given the opportunity to escape death and flee to Athens or stay to be crucified in Jerusalem to sacrifice himself. By staying in Jerusalem and facing crucifixion, Jesus saved humanity.
"We think that our faith only makes sense when we come to church and when we go to chapel. The fact of the matter is that our faith is so real that it is interwoven into the very fabric of life. At the root of our faith is this idea that in order for something to live, something has to die," Cosby explained.
Cosby said he was only able to be standing there that day because somebody died and urged the audience to always remember someone died for them. "I would not be here if Rosa Parks was not willing to die. I would not be here if Martin Luther King Jr. had not died. They died so I would have the right to be here."
"Thunder or Angels" brought to light the disparities the African American community has faced and are still facing today with the reminder that Christians are called to give up their lives to serve others.
Cosby declared, "Everyone must make a decision. Will I be willing to stay in Jerusalem? Will you consume your life or will you contribute your life?"