Romans 5:3-4 teaches us that perseverance produces character and character produces hope. This week, 75 student leaders participated in the character-forming, hope-inspiring 2021 BOLD Moves Leadership Challenge (BMLC) offered by the Belmont Office of Leadership Development.
During this week-long training experience, students engaged in interactive learning activities facilitated by Belmont Student Life and University Ministries staff. Students used "The Student Leadership Challenge" by James Kousez and Barry Posner as well as "Belong" by Rhada Agrawal to craft their own personal philosophy of leadership. The BOLD Moves Leadership Challenge helped students find their voice, clarify their values and set the example by aligning their values with their actions.
BMLC participants volunteered to "Model the Way" of exemplary leadership during move-in week by moving both incoming freshmen and returning students into their dorms for three full days. 
"This has been one of the most engaged and committed group of aspiring student leaders I've worked with in years," said Dr. AdriAnne Sternberg, associate dean and director of Leadership Development. "Our diverse group of Belmont seniors, juniors and sophomores from almost every academic college helped positively impact the lives of thousands of students returning home to campus. BOLD student leaders persevered through challenging lessons, the pouring rain, hundreds of stairs and injected hope into what could have been a very hard day for families."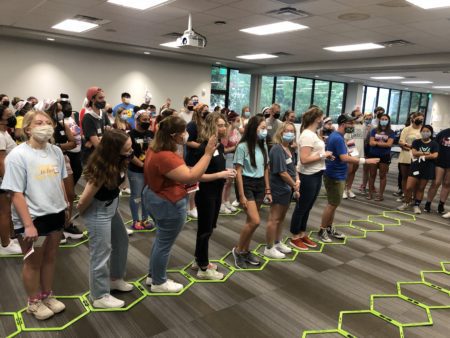 Belmont Senior Jack Burgoyne shared, "This experience was one of the best in my life. Thank all of you for bringing out the best of what it looks like to love God and love all people." 
A two-time BMLC participant also stated, "This BMLC surpassed 2019. The content and speakers were exquisite. The leadership and team leaders were remarkable and engaged so well with us. I am beyond proud and happy with this being my last BMLC." 
For these BOLD leaders and those who received their help, the semester is even more hope-filled. To learn more about BOLD programs for the 2021 fall semester call x6897, email bold@belmont.edu or visit https://belmont.edu/leadership-development/index.html.