The Summer Scholars Program provides students and faculty the opportunity to conduct collaborative research for which the students receive course credit.  Since the summer of 2003, more than 40 research communities have been formed involving over 100 students in the areas of biology, English, mathematics, computer science, history, psychology and sociology. Many of the communities continue year after year with the same faculty mentor and a new group of student participants. For example, a number of biology faculty have communities each year continuing to investigate their favorite model organism or system as listed below.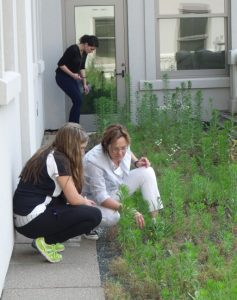 Professor of Biology Dr. Darlene Panvini's research group worked on two different projects. Students Anna Anderson and Gary Noel set up a six-month study to analyze the decomposition of native and non-native leaves under different environmental conditions. In the other study, Sargoel Rezanejad and Kelsey Saint Clair used DNA Barcoding, Biolog Ecoplates and pitfall traps to compare the diversity of plants, bacteria and macroinvertebrates on one of the Ayers Academic Center's green roofs to the McWhorter Hall green roof.
Dr. Chris Barton, assistant professor of biology, mentored a group of four students who explored the effects of multiple compounds on the growth of cervical and colorectal cancer cell lines. The ability to identify, quantify and classify genes that are specifically expressed is essential to understanding how cells respond to chemotherapy. Anna Margaret McDonnell, Kerry Sommers, Sarah Anderson and Diana Neculcea exposed cell cultures to a variety of chemotherapy agents and then measured cell viability and examined the expression of specific genes including genes implicated in cancer.
Professor of Biology Dr. Lori McGrew led a group of students utilizing Danio rerio (zebrafish) as a model organism and focused on assessment of anxiety or memory in the fish. Austin Demaagd, Stephane Morin and Sam Zacovic measured anxiety in the fish following treatment with various pharmacologic agents. Curt Brown, John Longenecker and Mohamed Darwish used a T-maze to assess memory in zebrafish that had been exposed to different medications.
The Summer Scholars students are scheduled to share their findings with the Belmont community during a poster session in the Ayers Academic Center third floor atrium at 10 a.m. Sept. 3.