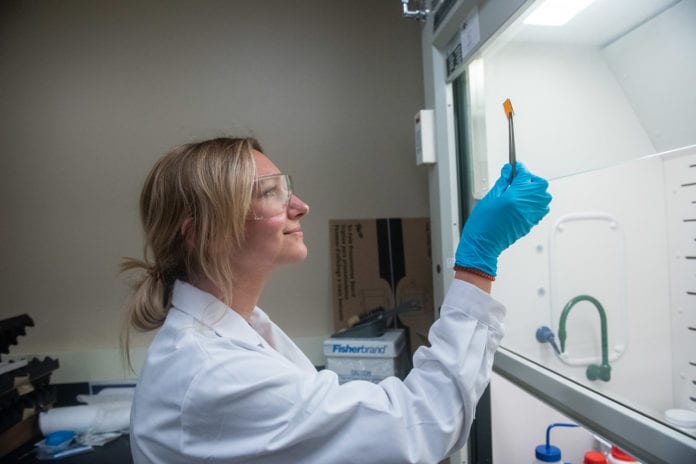 There's one thing the dozens of students spending their summer in the science labs at Belmont seem to agree on – they wanted to gain more research experience in a learning community, with easy access to their beloved faculty members and without the typical distractions of a busy semester. With "SURFS," that's what they've got.
Belmont's Summer Undergraduate Research Fellowships in the Sciences (SURFS) through the College of Sciences and Mathematics offers the opportunity for students at all levels to apply to work on a focused, six-week research project over the summer. Those selected are assigned to one of their top choices of the various faculty-led projects, providing firsthand experience in being part of a research team as in the industry or graduate school. Students learn through interactions with other researchers and faculty mentors, gain experience with state-of-the-art instrumentation and attend weekly lectures on best research practices.
Some students return year after year, such as rising senior biology major Hannah Moore, who has worked with Biology Professor Dr. Chris Barton since her freshman year. Their team has been looking at ways to re-purpose antimalarial drugs to treat cancer. Moore said working on this project for the past several years has not only boosted her confidence in the lab, but has also led to expanding the project enough to put a paper together.
"I love seeing these cells under the microscope. Cancer cells are tough and you can split them as many times as you want, which makes for great research," Moore explained. "Cancer treatments aren't one-size fits all, so we are really targeting ways to develop personalized medicine."
Moore hopes to reach her goal of attending medical school someday, and this experience is one step further in getting her there. But, what she enjoys most is the personable aspect you find in Belmont labs that aren't found in others.
"Belmont labs are different because we all have close relationships, and we really get to know each other and our professor. We recently had a pizza and movie night. This community I've found here is amazing," she said. "I'd love to stay in Nashville with my interest in the health care industry, so Belmont's new medical school is high on my list. I know that same community would be replicated there, too."
See the slideshow below for a quick recap of some of the other projects taking place through SURFS this summer. Students will present their findings via poster presentations in the Janet Ayers Academic Building on July 9.