Every year, Belmont University's Up 'til Dawn team works to raise money to support St. Jude Children's Research Hospital. Their fundraising efforts culminate at an overnight event where students commit to "staying up for good" to help fight childhood illnesses.
This year's event took place in Belmont University's Curb Event Center and was themed "All Around the World." The theme was inspired by how St. Jude shares its research and treatments throughout the world. Students who raised $100 or more were able to come to the event to stay up all night, play games and learn more about St. Jude. Activities for the night included inflatable obstacle courses, karaoke, mini gold, a hip-hop dance class and the annual silent disco, a fan favorite.
Prior to the event, the Up 'til Dawn board holds many events to recruit students and raise funds. These include "Wake-up Wednesdays" where they hand out coffee and talk to people about St. Jude and the event. They also hold "No More Cancer Rallies" aimed at fundraising and giving tips on how best to secure support.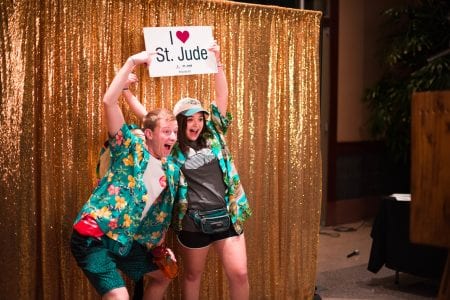 Following the theme of "All Around the World," the evening "took off" with flight attendant emcees, traveled to different countries for different games and concluded by "landing" in Memphis at St. Jude to reveal the total amount of money raised. The big reveal announced the total to be $134,255.90 raised for St. Jude Children's Research Hospital.
Up 'til Dawn has been an organization at Belmont for five years and has been able to raise over $500,000. "Moving forward, I hope that Belmont Up 'til Dawn and our Board can just continue to share our passion and efforts for St. Jude Children's Research Hospital," said Katelyn Bosse, event and logistics director on Belmont's Up 'til Dawn board. "A patient's overall treatment at St. Jude costs about $425,000, so to know that we as a Belmont community helped to save a child's life and be there during this cancer battle, is inspiring and makes me so proud to be a part of this."