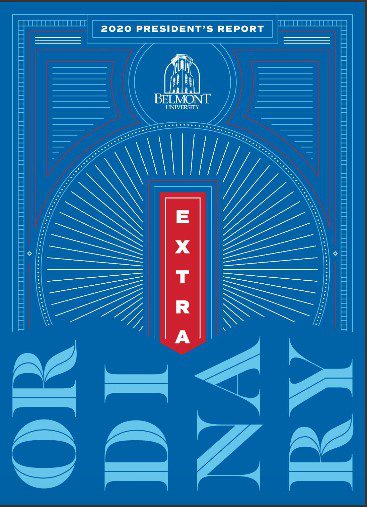 The Tennessee College Public Relations Association held its annual state conference on June 22, which included a virtual professional development session and awards ceremony for submitted projects. Belmont's University Marketing and Public Relations Department received several awards during the ceremony.
In the Reports category, Belmont won the Gold Award for the 2020 President's Report – Extraordinary. This publication also received the Best in Show award.
Belmont's Circle Magazine won the Bronze Award out of 17 entries in the College Alumni Magazine – Printed category. Belmont's "Ideas of America" coloring book, produced for the 2020 Presidential Debate held on campus, received the Bronze Award in the special publication category. Belmont's "Heads Up" by University Photographer Sam Simpkins won the Bronze Award in the Sport Photography category.
There was also a "Behind the Awards" panel where selected award winners explained how their projects came together. Belmont Design Operations Manager Erica Belletete presented on the strategy behind Belmont's 2021 Presidential Report.