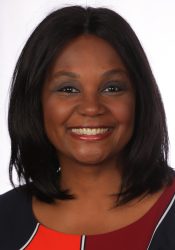 Dr. Hope Campbell, associate professor of pharmacy practice at Belmont, will be presenting multiple sessions at the American Association of Colleges of Pharmacy's (AACP) upcoming annual meeting scheduled for July 19-22. As a scholarship lead for the Health Disparities and Cultural Competency Special Interest Group (SIG) within AACP, Dr. Campbell will share along with her research team a session entitled Teaching on Half the Story: The case of systemic racism.
As schools and colleges of pharmacy nationwide grapple with declining enrollment, they are also seeking to diversify their student body. To that end, she will share her sabbatical research on Attracting Diversity: What factors are important to underrepresented minorities when selecting a school of pharmacy? On Tuesday, July 20 Dr. Campbell and her colleague Dr. Edgar Diaz-Cruz, associate professor of pharmaceutical, social and administrative sciences in the College of Pharmacy, will share the podium with Dr. Lakesha Butler, clinical professor at Southern Illinois University Edwardsville, to present on the timely topic of how to incorporate structural racism in pharmacy curriculum to address health inequities. Her presentation is titled Daring to Teach the Whole Truth: Structural Racism, Structural Competence and Health Inequities.
Dr. Campbell continues to contribute to the national discourse on race, diversity, equity, COVID-19 and representation in pharmacy at the student, faculty and organizational level. She recently published the following two manuscripts that the president of the American Association of Clinical Pharmacy (ACCP), Dr. Jimmi Kolpek, highlighted in her recent letter to constituents, Building a Road to Equitable Representation.
Riley AC, Campbell H, Butler L, et al. Socialized and traumatized: pharmacists, underserved patients, and the COVID-19 vaccine. J Am Pharm Assoc 2021 Jun 1: S1544-3191(21)00202-8. doi:10.1016/j.japh.2021.05.020.
Allen JM, Abdul-Mutakabbir JC, Campbell HE, et al. Ten recommendations to increase Black representation within pharmacy organization leadership. Am J Health Syst Pharm 2021; 78:896-902.