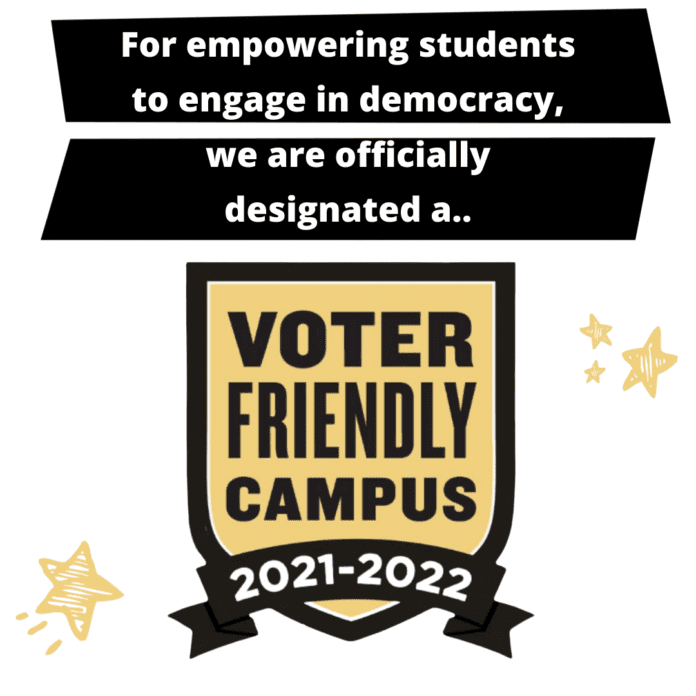 Belmont University has been designated as a "Voter Friendly Campus." The initiative, led by national nonpartisan organizations, Campus Vote Project and NASPA – Student Affairs Administrators in Higher Education, held participating institutions accountable for planning and implementing practices that encourage their students to register and vote in 2020 elections and in the coming years. Belmont is part of a select group of campuses from around the country that participated and received the designation.
Belmont's efforts, despite great challenges presented by Covid-19, to break down barriers and empower students with the information and tools they need to participate in the political process lead to historic youth voter turnout and opened the door to lifelong civic engagement.
In order to embed higher rates of voter registration, education, advocacy and turnout, Belmont's Voter Friendly Campus Steering Committee tapped into the interest and momentum provided by the final United States Presidential Debate, hosted at Belmont in October 2020, to lay the groundwork for a voter engagement plan not only for the 2020 election cycle, but for the campus in the academic year of 2020-2021 and beyond. Through putting together this plan, the team identified various groups, programs and individuals working on voter engagement across student, staff, faculty and senior leadership groups.
The committee highlighted five major events and initiatives: Rock the Vote at Belmont University: Nashville Colleges Celebrate Democracy, a voter registration drive at The Store –  a non-profit serving the Nashville community opened by Belmont alumnus Brad Paisley and his wife Kimberly Williams Paisley, – a "Bruins Vote" campaign website though Belmont's Athletics program, partnerships and events with Belmont Greek organizations and the Black Student Association, as well as voter registration promotion at every event associated with Belmont hosting the Presidential Debate.
Tim Stewart, director of Service Learning at Belmont, said, "This is not the culmination of our efforts, however. Think of it as a commencement! We've got a lot of work ahead to continue making Belmont a leader in engaging our students in the community and the democratic process, and to continue being worthy of the Voter Friendly Campus designation."
The mission of the Voter Friendly Campus designation is to bolster efforts that help students overcome barriers to participating in the political process. Belmont was evaluated based on a campus plan about how the school would register, educate and turnout student voters in 2020, how the team facilitated voter engagement efforts on campus, and a final analysis of efforts- all in the face of the upheaval caused by a global pandemic. The designation is valid through December 2022.  
Belmont has made a strong statement about the civic mission of higher education to prepare students to be engaged participants in our democracy and is excited to continue engaging students through 2021, 2022 and beyond. 
About
NASPA is the leading association for the advancement, health, and sustainability of the student affairs profession. Our work provides high-quality professional development, advocacy, and research for 15,000 members in all 50 states, 25 countries, and 8 U.S. territories. 
Fair Elections Center is a national, nonpartisan voting rights and legal support organization that works to eliminate barriers to voting and improve election administration across the United States. Fair Elections Center's Campus Vote Project works with universities, community colleges, faculty, students and election officials to reduce barriers to student voting and helps campuses institutionalize reforms that empower students with the information they need to register and vote.