Belmont University held its first-ever Suicide Prevention & Awareness Week Tuesday, September 6 through Saturday, September 10. Hosted by Belmont University Counseling Services, the week of events was coordinated with the intent to save lives and bring hope to those affected by suicide, including those who have experienced a loss.
"We realize that so many in our community have been touched by mental health-related struggles, and more specifically suicide," said Katherine Cornelius, Belmont director of counseling services. "Our hope for this week is that we come together as a community and join forces to break the silence around suicide and change the conversation around mental health."
This year's events included: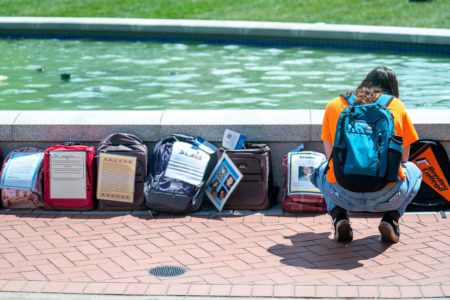 Send Silence Packing on Wednesday, September 7 in partnership with Active Minds: This event featured a powerful interactive exhibit of 1,000 backpacks set up on McWhorter Lawn and Freedom Plaza that included personal stories from individuals who have all been personally touched by suicide. The all-day display inspired action for suicide prevention and connected participants with local and national mental health resources.
Each and Every Day on Thursday, September 8 in partnership with Mike Curb College of Entertainment and Music Business: The Belmont community gathered for a viewing and discussion of a film created in partnership with MTV and The Jed Foundation (JED). The documentary explores youth mental health through the eyes of young people who have attempted suicide or have struggled with suicidal thoughts.
Sharde Curry's Story on Friday, September 9 in partnership with University Ministries and Active Minds: Curry navigated the loss of a family member to suicide and shared her journey to help the campus community learn, understand, and deepen the understanding of a topic that has affected so many lives.
Out of the Darkness Walk on Saturday, September 10 in partnership with Campus Security, Event Services, American Foundation for Suicide Prevention  (AFSP), Metro Police, and Active Minds: This event was designed to raise awareness and much-needed funds for AFSP while strongly sending the message of hope that suicide is preventable, and that no one is alone. 
Belmont Counseling Services is committed to providing free, convenient access to professional mental health assessment, emergent care, short-term treatment, and wellness education to aid students in managing life transitions and serious emotional issues. These collaborative efforts across campus and within the larger mental health community of Nashville ensure that Belmont students directly experience a sense of community that values safety, personal integrity, and care.