Belmont University offered a series of events that celebrated the experiences and sacrifice of those who have served our country the week of November 11. Formerly a one-day event on campus, Veterans Week has been expanded to a week-long celebration in order to give greater visibility, support and recognition to our military and veterans, including the almost 300 veterans and military dependents enrolled at Belmont.
Associate Provost for Interdisciplinary Studies and Global Education Mimi Barnard said Veterans Week is a time to highlight an important community within the larger Belmont community.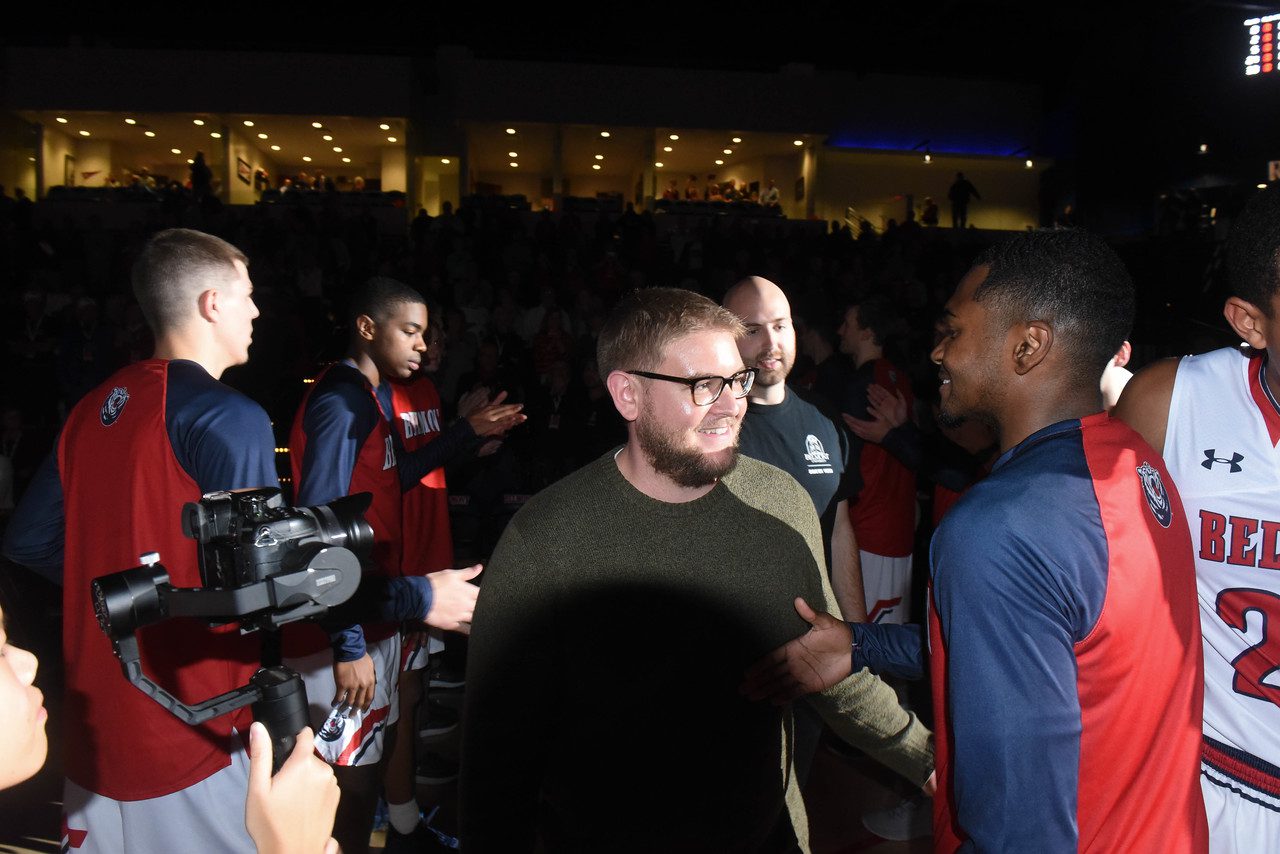 "At Belmont, we are a community of people from different backgrounds who come together to experience a transformational learning environment. Our student veterans are a very important part of this community, not only because of their service and sacrifice, but because they represent the best of ourselves, our nation and our influence internationally," she said. "I'm particularly grateful for all of those who participated in the Yellow Ribbon and letter writing event and for those who've donated pantry items over the last few days."
Monday kicked off the week with several events on Veterans Day, including an informational session for student veterans to learn about their education benefits, a luncheon to thank those who have served and a military appreciation night at the Belmont v. Samford Men's Basketball Season Opener. The Bruin Vets attended the game as a group and escorted starting players for both teams to the court as they were announced with the starting line-up. The National Anthem was performed by an artist from Operation Song, an organization that empowers veterans and active duty military to tell their stories through the process of songwriting.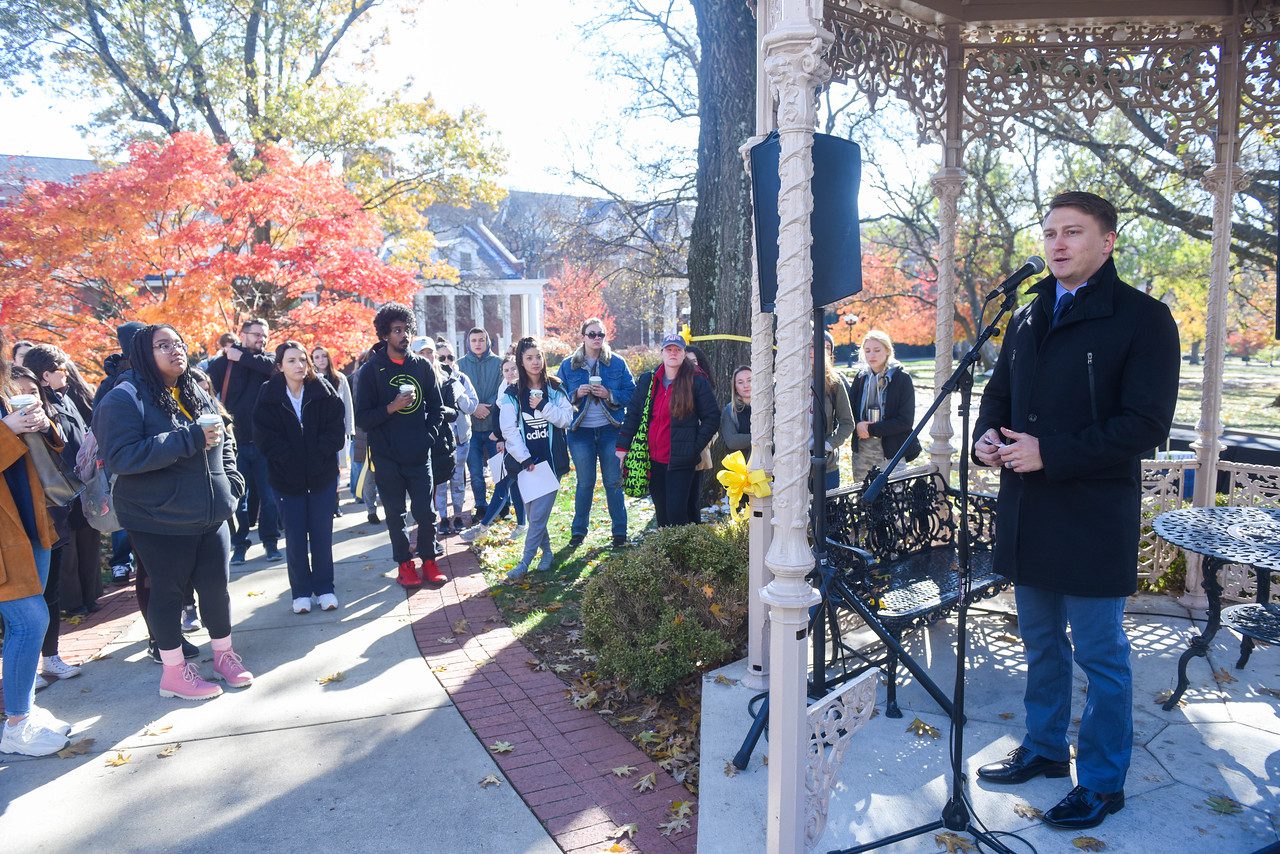 Belmont's fountain and Bell Tower also lit up with green lights in honor of the national "Green Light a Veteran" campaign. The green lights are a simple way to show appreciation and visible support to the nation's veterans.
On Tuesday, "Wellnesspalooza" took place in the Bruin Vets center specifically for student veterans to enjoy a variety of wellness activities, including free chair massages, an introductory stress reduction session, therapy dogs and free cold-pressed juice samples and juicing tips from Urban Juicer.
Events of the week were put on by the Office of Interdisciplinary and Global Studies and spearheaded by Marketing Specialist Jennifer Kiev and her assistant, junior Sara Montgomery. Other events included a takeover by Student Veteran George DeShields on Belmont's Instagram and a professional mixer with veteran alumni, hosted by the Massey College of Business.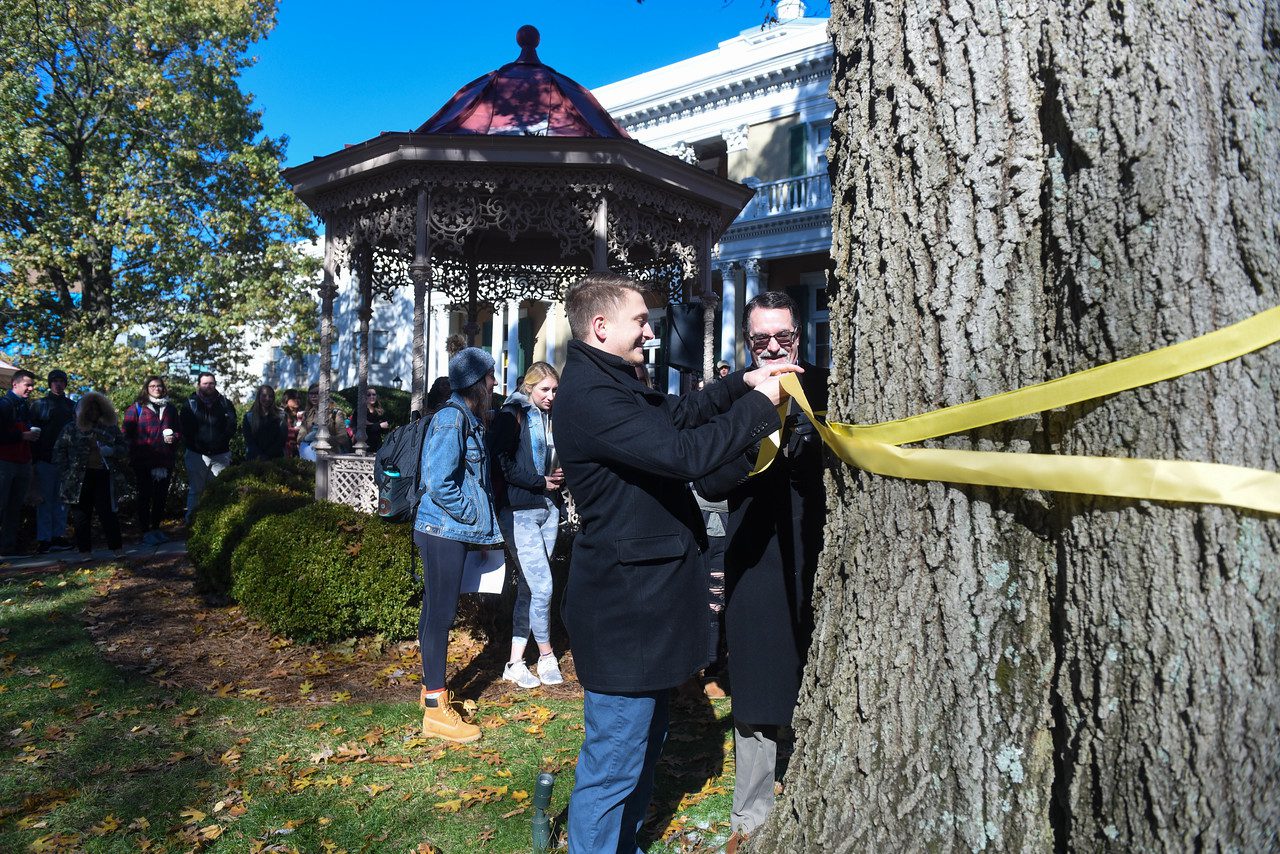 "I don't have anyone in my family or who is close to me that has served in the military, so it has been cool having this role and getting to have relationships with the student veterans," said Montgomery. "I think Belmont does a great job of celebrating the student veterans and it makes them feel special. They don't always like the attention on them, but sometimes it's just a visual thing like having the ribbons up or the fountain green lets them know that we support them."
The Yellow Ribbon Ceremony, an all-campus event which took place on Wednesday, is about remembering those who are deployed. Students, faculty and staff gathered around the Belmont Mansion to show their support. Belmont Provost Dr. Thomas Burns and Brian Bergheger, president of Bruin Vets, spoke briefly and led the Belmont community in tying the first yellow ribbon around a prominent campus tree. The congregation followed by tying dozens of yellow ribbons around trees on campus.. The group also wrote letters to military members oversees.
Bergheger spoke during the event and explained that a lot of military members don't receive the letters that everybody else does and encouraged the students to include information about themselves in their letters, along with words of encouragement. "It feels good to know somebody back home cares about you. That just makes the message go further and makes it seem like a real person on the other end of the letter," he said. "When I was deployed on my second deployment, I received a couple letters from a college student just like us, and it was really helpful just to hear her talk about struggling with exams and things like that because that's a real American showing us they really do care on the other end."
View a photo gallery from the week's events here and a special gallery for the Yellow Ribbon event here.