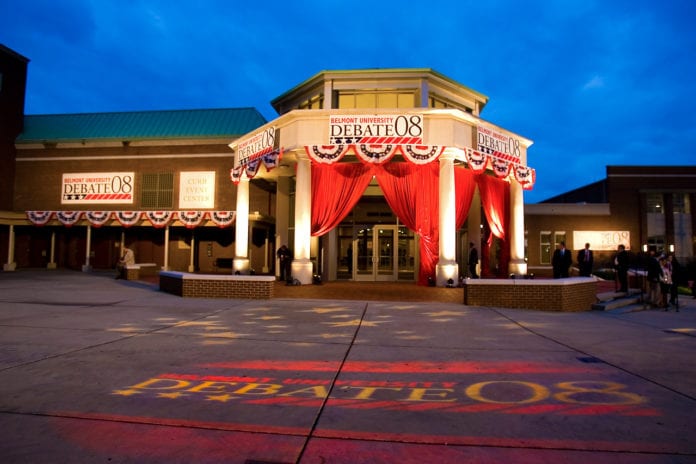 The bids are in. Today Belmont University discovered its competition to host a 2020 presidential date, as the Commission on Presidential Debates officially announced the six sites that applied for the honor this year. Of note, only Hartford ('96) and Belmont ('08) have served as previous host sites, and Belmont/Nashville is the only site in the South to apply.

Belmont previously hosted the 2008 Town Hall Presidential Debate between then candidates Sen. John McCain and Sen. Barack Obama, and the University served as the official alternate host site in 2016. In addition, the University has partnered with media outlets and other nonprofits multiple times to host past mayoral and gubernatorial debates.

Belmont President Dr. Bob Fisher said, "Any time you enter the race to host a presidential debate, you know you're facing tough competition as sites must be committed to pull off an event of this magnitude. However, I am confident in Belmont University's ability—with the support of the Nashville community—to execute an extraordinary event for the Commission on Presidential Debates, the candidates and all of the accompanying media and visitors. Belmont has earned a reputation for a consummate service mentality, friendly atmosphere and commitment to excellence. Most importantly, this University has earned the trust of citizens and candidates alike to put on well-organized debates that give individuals from any party, and of any ilk, equal right to be heard."

All debate applicants must be equipped to provide tens of thousands of square feet of dedicated space for the candidates, their staff, working media and other debate officials as well as ample parking, significant IT and communications infrastructure and access to as many as 3,000 hotel rooms, among other requirements. Belmont's application for a 2020 debate includes letters of support from numerous state and local officials, including Senators Marsha Blackburn and Lamar Alexander, Congressman Jim Cooper, Gov. Bill Lee and Mayor David Briley, among others.

Following the 2008 Town Hall Presidential Debate, a writer for USA Today noted, "Belmont University in Nashville proved that small places with big ambitions could be world-class stages." Now a decade later, the explosive growth of both Belmont and Nashville has made the "small places" phrase obsolete, and each has repeatedly proven its ability to provide "world-class stages" for an array of large events. Since 2008, Belmont University has continued to demonstrate its expertise hosting major broadcast events, including the internationally televised Davis Cup tennis competition and, most recently, the television taping of "CMA Country Christmas" featuring artists Reba McEntire, Brad Paisley, Michael W. Smith,Tony Bennett and Diana Krall, among others.

Moreover, Nashville has drawn an increasing number of significant opportunities that bring thousands to a city whose reputation continues to expand beyond its Music City moniker. By the time of the 2020 debate, Nashville will have hosted annual CMA Fest events drawing capacity crowds, the 2016 NHL All Star weekend, annual July 4th "Let Freedom Ring" celebrations exceeding 250,000 attendees and the 2019 NFL Draft, not to mention a variety of conventions, festivals and award shows. The city will also be in the national spotlight all year with this fall's release of Ken Burns's newest documentary, "Country Music," a series sponsored in part by Belmont.

With more than 41,000 hotel rooms in the metro area, a robust tourism industry and an inclusive hospitality mindset, the city is well prepared to host the political dignitaries, guests and media that would accompany a presidential debate. In fact, more than 5,000 new hotel rooms have opened in Nashville in the past five years alone with another 5,400 under construction in Davidson Country, a strong indication of the area's ongoing popularity as a must-see destination. Many of these spaces come in a dozen new full-service and boutique hotel brands located in the heart of downtown.

The 2008 Town Hall Presidential Debate, the first to be held in Tennessee, scored a ratings coup nationwide. According to Nielsen Media Ratings, more than 63.2 million homes nationwide tuned in to view the 2008 Town Hall Presidential Debate, the largest television audience of the three presidential debates held that fall. In addition, the event attracted thousands of media and other visitors to Nashville and resulted in both an economic boost and more than 5,200 media hits in the days leading up to and following the debate.