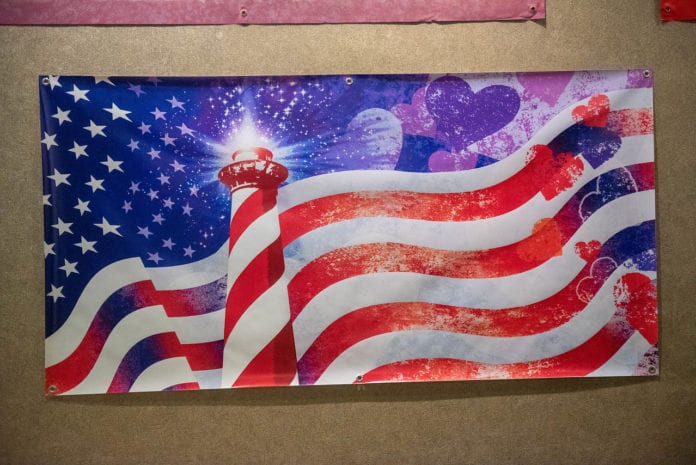 Initiated in anticipation of hosting the final presidential debate on October 22, 2020, Belmont University hosted a visual display of Unity Flags that promote empathy for bipartisanship from artists across the United States, using the American flag and their home states as inspiration. The brainchild of Dr. Meaghan Brady Nelson, assistant professor of art education and program director of fine arts at Belmont, the Unity Flag Project was originally housed at Belmont's Leu Center for the Visual Arts.
Now, the project is a travelling art exhibit heading to Virginia Wesleyan University's Robert Nusbaum Center and Neil Britton Art Gallery, set to open on Inauguration Day, January 20, and to continue through March 19 as an expression of national unity. An additional 12 flags created by local individuals and groups will be added to the on-campus exhibition, and digital designs will be added virtually. The exhibit can be viewed virtually here.
Brady Nelson's goal was to take the blue and red polarization of the country's current political climate and to use the visual arts to bring them together to foster "purple empathy." The project was designed to encourage civil discourse, build empathy and bridge political divides through the visual arts by inviting artists from across the country to create representations of the U.S. flag that expressed empathy for bipartisanship.
Nelson explained, "'Purple empathy' is the action of understanding, being aware of, being sensitive to and vicariously experiencing the feelings, thoughts and experience of another's political views, political experiences, political opinions, political understandings, political intentions and political decisions."
In VWU's announcement of the upcoming exhibit, John Rudel, curator of exhibitions for the Neil Britton Art Gallery, said civil discourse in the arts has the power to provide a focal point for dialogue, to reduce barriers to participation and spark individuals into action, to promote new ways of thinking about and understanding issues, and to ultimately catalyze needed change.
"Following a period of tremendous social unrest in our country, we are hopeful that promoting unity through this exhibition and related events will harness the power of creative expression as a means for positive growth," he said.
The Robert Nusbaum Center was selected to create the Unity Flag for the state of Virginia. "A Beacon of Hope" was one of the 30 state flags displayed during the October debate and features a lighthouse and heart images as symbols of welcome and hope.