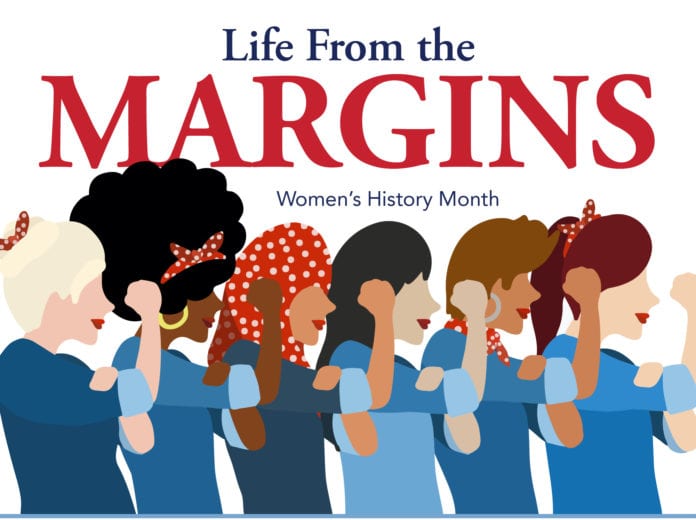 Throughout history, women have lived much of their lives relegated to the margins of society – without power, influence and often adequate resources. And yet, women have worked diligently to create space for the flourishing of their families and communities—finding hope, healing and purpose as they care for and pay attention to those on the margins. This March, the Belmont community will have the opportunity to hear the stories of women whose work and life seeks to lift up and make space for all people as the University celebrates Women's History Month.
In the midst of the pandemic, the world turned its eyes on those on the margins of society and saw how they have been disproportionally impacted. As a member of Belmont's Women's History Month Committee, University Minister Heather Daugherty explained how the group was reminded this past year that women throughout history have generally been on the margins of our society and still managed to stay strong, survive and to flourish.
"Most of the time when a woman flourishes, she brings along with her an entire community – and so we wanted to have conversations that center women, that highlight their work and that inspire us to continue to live out their legacy of caring for those on the margins of our lives and society," Daugherty said. "Our hope for our events is that students will celebrate the way that each of the women we highlight is being used by God and seek to find ways that God might be calling them to engage and transform the world around them."
A schedule of events is listed below. Although disappointing that the events will all be virtual this year, as Belmont wants students to be able to interact with speakers fact-to-face, the Zoom environment does allow students to hear from speakers across the country, and many more students will have access to see their presentations later. All of the events will be available on Bruinlink and on Blackboard for students to access, but anyone is able to attend using the zoom links included in this list.
Wednesday, March 10 at 2 p.m.
CHAPEL: A Space for Love: Cultivating Community Among the Margins with Emily Mills (Zoom link)
Emily Mills, founder and chief ideation officer of Jesus Said Love/Lovely Enterprises, will share her journey of working with survivors of sexual exploitation for the last 15 years and how they have determined the trajectory for JSL. Mills will weave together story and data compelling us to love radically, cultivate community among the margins and create a space for love big enough for every individual. Co-sponsored by the Women's History Month Committee.
Wednesday, March 17 at 3 p.m.
Asian Christian Art: Matter + Spirit with Professor Suki Kwon and Dr. Rachel Smith. (Zoom link)
Suki Kwon is an artist who has lived and had her works exhibited in her native Korea, as well as Japan, China, England and the United States. She is assistant professor of design at the University of Dayton. Belmont University's Leu Art Gallery features her work this semester in the exhibit "Matter + Spirit," which is curated by Dr. Rachel Smith, Gilkison Distinguished Professor of Art History at Taylor University and artistic director for the Nagel Institute for World Christianity. Co-sponsored by the Watkins College of Art and the College of Liberal Arts & Sciences Asian Studies Program.
Wednesday, March 24 at 3:30 p.m
CHAPEL: From the Margins: The Origins of Christian Feminism (Zoom link)
Feminism is often thought of in a negative context within the church. Dr. Du Mez will explore how it was often women on the margins who found in the Christian scriptures sources of empowerment and helped build a tradition of Christian feminism. Co-sponsored by the Women's History Month Committee.
Thursday, March 25 at 3:15 p.m.
CHAPEL: Parable of the Brown Girl (Zoom link)
Imago Dei, a theological term rooted in Genesis 1:27, says human beings are created in the image and likeness of God. While this is a fascinating concept, humans have struggled to conceptualize what it truly means as it relates to themselves as individuals and other humans and living creatures. Young Black girls, specifically, fail to receive the message that they, too, are made in the image of God. Their lived experiences are often overlooked, unseen and ignored rather than valued and heard. In this talk, Rev. Khristi Adams will magnify the struggles, dreams, wisdom and dignity of these voices and demonstrate how the narratives we most often ignore can teach us the most important lessons in life. Co-sponsored by the Women's History Month Committee.