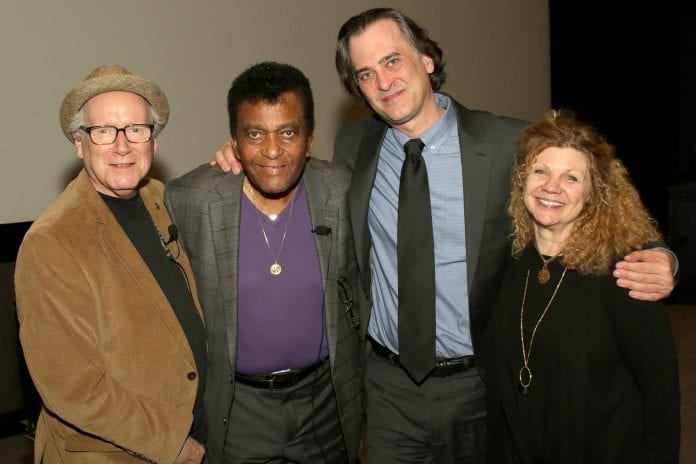 The large theater in Belmont's Milton R. and Denice Johnson Center was packed Wednesday night for the Nashville premiere of "American Masters – Charley Pride: I'm Just Me." The documentary traces the improbable journey of Charley Pride, from his humble beginnings as a sharecropper's son on a cotton farm in segregated Sledge, Mississippi to his career as a Negro League baseball player and his meteoric rise as a trailblazing country music superstar.
In addition to special guests and media, several dozen Belmont students in the Curb College of Entertainment and Music Business were invited to attend the premiere. The new documentary reveals how Pride's love for music led him from the Delta to a larger, grander world. In the 1940s, radio transcended racial barriers, making it possible for Pride to grow up listening to and imitating Grand Ole Opry stars like Ernest Tubb and Roy Acuff. The singer arrived in Nashville in 1963 while the city roiled with sit-ins and racial violence. But with boldness, perseverance and undeniable musical talent, he managed to parlay a series of fortuitous encounters with music industry insiders into a legacy of hit singles, a Grammy Lifetime Achievement Award and a place in the Country Music Hall of Fame.
The film features original interviews with country music royalty, including Garth Brooks, Dolly Parton, Belmont alumnus Brad Paisley, Darius Rucker and Marty Stuart, as well as on-camera conversations between Pride and special guests, including Rozene Pride (his wife of 61 years), Willie Nelson and fellow musicians.
The 60-minute film will premiere nationwide on PBS Friday, Feb. 22. Check local listings for air times.
Launched in 1986 on PBS, American Masters has earned 28 Emmy Awards — including ten for Outstanding Non-Fiction Series and five for Outstanding Non-Fiction Special — 13 Peabodys, an Oscar, three Grammys, two Producers Guild Awards, and many other honors. To further explore the lives and works of masters past and present, American Masters offers streaming video of select films, outtakes, filmmaker interviews, the American Masters Podcast, educational resources and more. The series is a production of THIRTEEN PRODUCTIONS LLC for WNET and also seen on the WORLD channel.