From the future of virtual reality to hope found in children's literature, the insight of the enneagram to injury prevention for musicians, the Belmont community was invited to attend several of 20 "TED-talk" style presentations known as "Belmont Talks and Experiences" on November 3 as part of the Presidential Inauguration Celebration. The 90-minute time frame allowed attendees to select several of the 20-minute sessions to attend, covering a variety of topics and led by various members of the Belmont community.
Marketing Coordinator Lindsey Hurst helped bring all of the presenters together to create an engaging, cohesive event for campus to enjoy. "It was awesome to have so many willing faculty members create fun games and presentations around wellness, purpose, an entrepreneurial mindset and more – all themes we've been discussing since Dr. Jones' arrival to campus," she said. "I hope one or more of these sessions encouraged a student, faculty or staff member in attendance to continue to show up to new and out-of-the-box events our Belmont community works hard to host. It affords us the opportunity to fellowship with those we already know and meet new people we might not have met otherwise."
All the events that occurred on the Wednesday of Inauguration Week were created specifically for the Belmont community. Transformational Project Strategist Jenny Lokey said event organizers were thrilled to see faculty, staff, and students participate. "The goal of the day was to celebrate our campus community and provide ways for everyone to have fun and enjoy fellowship together," she explained. "It was so fulfilling to see so many participate and enjoy the festivities!"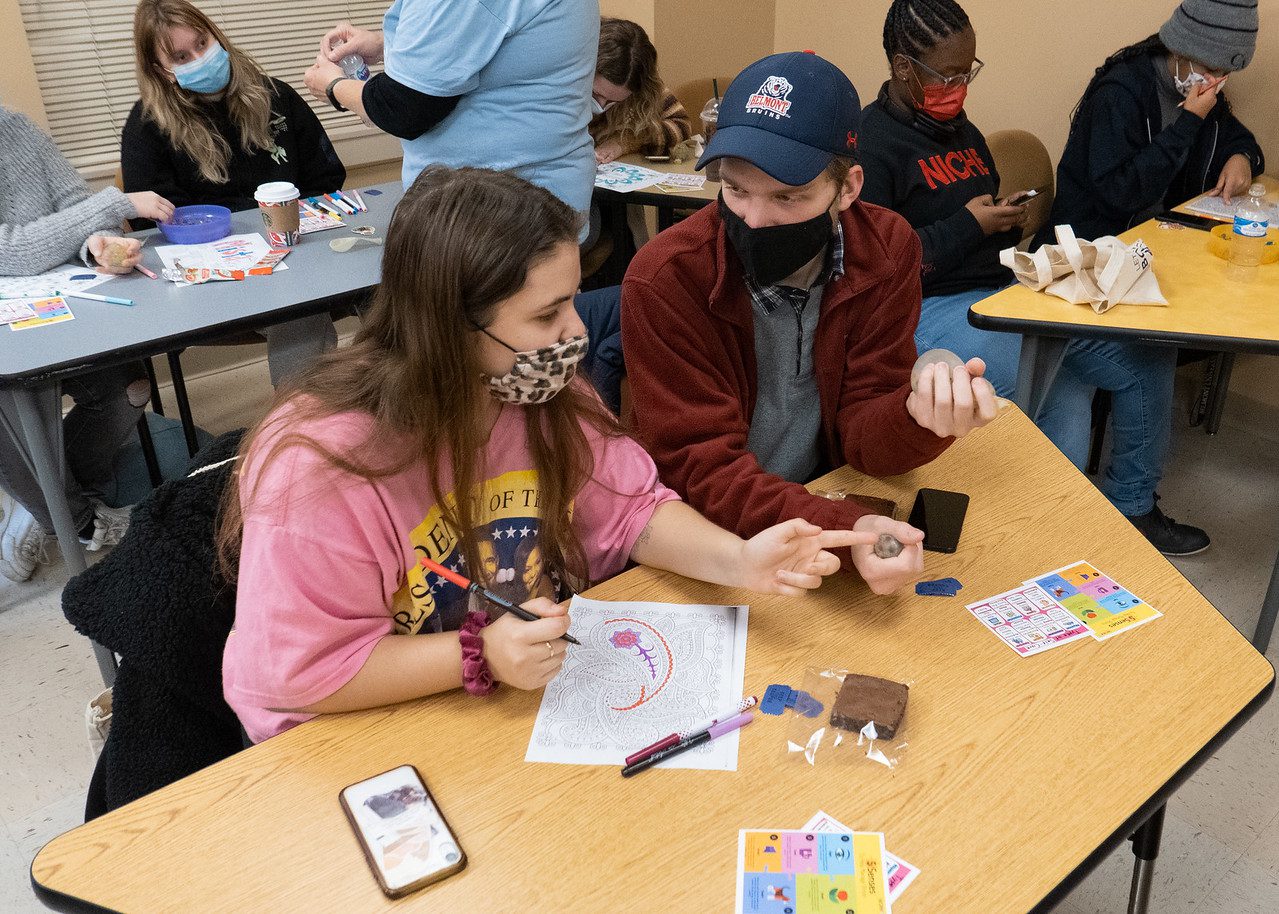 While certainly not an exhaustive list, a recap of some of the sessions can be found below. A full list of presenters included: Joyce Yang, Jane Duncan, Christian Williams, Todd Lake, David Gregory, Austin Mondloch, Matt Sherman, Elizabeth Gortmaker, Amy Smith, Nathan Adam, Marilyn Odom, Michael Hill, Jeremy Fyke, LaRae Murray, Jhennifer Amundson, Kelly Gore, Tom Lowing, Shannon Pennington, Jenny Muckala, Sue Curfman, Gary Austin, Rachael Flynn, Cathy Eschete, Pete Kuryla, Sue Trout, Beth Conway, Amy Hodges-Hamilton, Andy Davis, Jenny Crowell-Thompson, Doug Crews, Eszter Szentirmai, Anderson Spickard, Joy Kimmons, Jimmy Davis and Nathan Griffith.
Enneagram– Discovery of Self & Others
Dr. Amy Smith, professor of music business, lectured on the importance of the enneagram personality assessment in understanding ourselves and others, making connections between the nine personality numbers, spiritual growth and personal development. Smith's lecture went below the surface to make deeper connections on how each Enneagram number symbolizes one of God's gifts as well as one of the deadly sins/vices. Smith's lecture encouraged attendees to continue learning more about their number and themselves.
Hope Dealers: Bringing Hope to the World by Understanding Pain
Physical Therapy faculty Dr. Sue Curfman, associate professor, and Dr. Gary Austin, professor and chair, led a heartbreaking yet hopeful Belmont Talk on the rise of the opioid epidemic, suicides, healthcare disparities and immeasurable psychological and physical suffering and disability. Curfman and Austin spoke about how the misunderstanding of pain and coping strategies contribute in large part to these national issues. Throughout the lecture, the presenters cited research that proves understanding pain can prevent these issues, lead to teaching proper coping strategies and help family members of those struggling be better supporters.
Let's Talk Entrepreneurship
The Let's Talk Entrepreneurship session represented three businesses started by Belmont entrepreneurs: Dream Achieve, founded by Belmont senior Hannah Rodriguez, 31:25, founded by Belmont senior Bethany Husni, and Bizi Vitamin Honey, founded by Belmont alumni Ethan Akdamar and James Richard. The student entrepreneurs shared their passion for helping others and solving problems through their businesses. A desire to serve through problem-solving and innovative thinking are critical elements of the entrepreneurial mindset taught by the Belmont entrepreneurship center and in the inaugural "Let Hope Abound" theme. Husni began her apparel business as a response to the lack of inclusive sizing in women's apparel, specifically within Greek organizations. Rodriguez established Dream Achieve and coinciding ventures to help young women in school manage their time and be successful in their academic endeavors. Akdamar and Richard created Bizi as a solution to the issue of vitamins with added ingredients. The entrepreneurship center and entrepreneurship classes through the Massey College of Business provide aspiring student entrepreneurs with helpful feedback and direction to set them up for success.
Brownies and Balance
Social Work faculty Dr. Jennifer Crowell-Thompson, chair and associate professor, and Dr. Doug Crews, assistant professor, led a session focused on helping students find various ways to deal with everyday stress and anxieties. Instead of lecturing attendees about stress coping methods, all attendees were given the opportunity to relax, color and make stress balls while eating brownies in the process. Attendees were handed stickers as well as pieces of paper that listed ten different ways to deal with stress and how to practice mindfulness. "Brownies and Balance" served as a great mental health checkpoint for all participants and highlighted the importance of self care.
Faculty Pecha Kucha
Faculty from all three programs in the O'More College of Architecture and Design presented in "PechaKucha" format (20 slides for 20 seconds each in a fast-paced storytelling opportunity) about purpose and calling in the design disciplines. Professors Kelly Gore (interiors), Tom Lowing (architecture) and Shannon Pennington (fashion) presented their ideas about living lives of intention and meaning in these creative fields.
Virtual Reality and Democratization of Experience
Emerging technologies like Virtual and Augmented Reality will transform your future life, industry and career. Assistant Professor of Media Studies Nathan Adam presented this session entirely from within a virtual reality headset with his intel on how the world's largest companies are building entirely new ways to democratize content, production, performance and payments in a metaverse of next generation experiences for creators and consumers. He opened discussion about how to aim your career to reach exciting new revenue streams and bigger audiences than ever before.
To see a full list of the Belmont Talks provided, visit the Presidential Inauguration website.