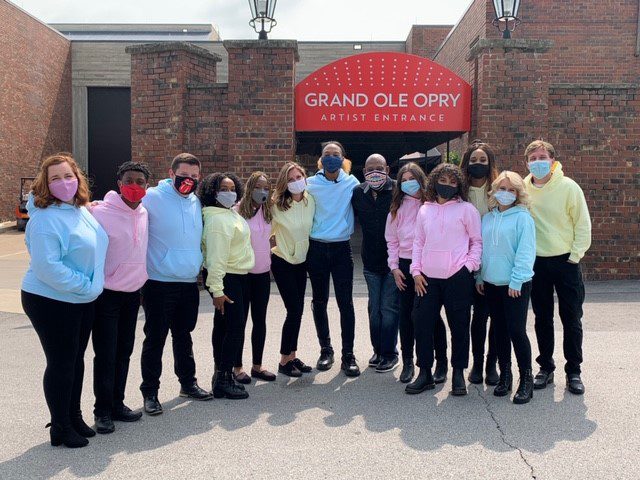 Country singer Kane Brown delivered a powerful performance at the 55th ACM Awards on September 16, 2020, with a little help from a lucky group of 12 Belmont students and alumni who provided his backup vocals. Brown and the students took the stage at the Grand Ole Opry in Nashville to sing Brown's new single "Worldwide Beautiful," which is all about racial equality.
Before the song began, Brown said, "I just want everybody to love everybody. And this is a song that I wrote for it."
Executive Producer of Lion's Heart Entertainment RAC Clark has produced the ACM's for CBS since 1999, and also produced Belmont's collaboration with Ed Sheeran for NBC's "Elvis All-Star Tribute" that aired last February. This opportunity is a result of that excellent collaboration. Professor of Music and Director of Choral Activities Dr. Jeffery Ames prepared the students musically and attended the event as their advocate and sponsor.
The singers from Belmont included current students Katie Grigsby, Cassie Henriksen, Ava Jackson, Tori Kocher, Chamberlin Little, Karis Mitchell, Wilson Smith and Grayson Thurman, as well as alumni David Cistrunk, Ally Jackson, Andriana Haygood and Tyra Thompson.
The full performance can be viewed here.