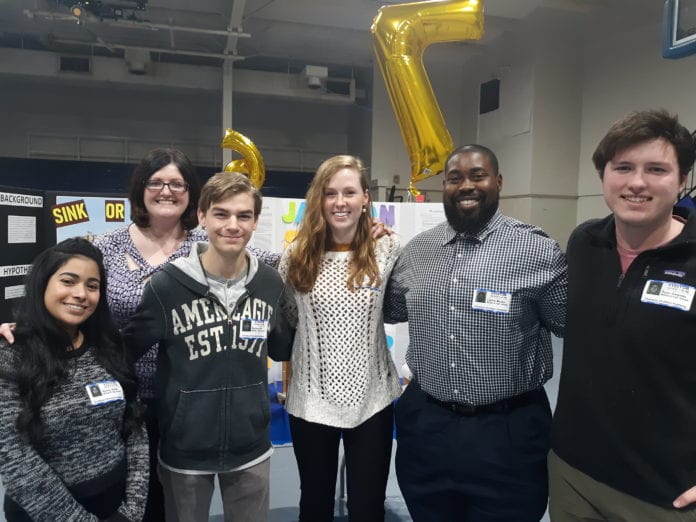 For the third consecutive year, Dr. Danielle Garrett, assistant professor of chemistry education, was invited to judge the Donelson Christian Academy (DCA) 6th – 8th grade annual spring science fair. Belmont undergraduate students Carlos McDay, biology major, Ryan Gagnon, chemistry and mathematics double major, Nancy Henin, pharmaceutical studies major, Britton Townsley, exercise science major, and Zach Hilt, marine biology major, assisted Dr. Garrett as judges. Projects on display featured a wide variety of interesting topics, including physical, biological and behavioral sciences.
"The scope of ideas present at the science fair this year was truly amazing – everything ranging from exploring the impact of anticoagulants on simulated blood clots, to the effect of temperature on magnetism, to the relationship between personality and memory," Dr. Garrett shared. "This is always such a fun event, and I'm excited to have the opportunity to share such a rewarding experience with some of our undergraduate students. They volunteered hours of their time without any hesitation. Community is truly the core of Belmont, and our students definitely have a heart for service, using their passions and interests as a way to make a positive impact on the community."
For Townsley and Henin, helping judge the science fair brought back many memories of middle school. "I felt as though I took a step back in time to the days of middle school science and was truly impressed to see the creative ideas of these young scientists come alive in such advanced ways! Judging this science fair reminded me how much time and effort goes into evaluating and scoring students' work and makes me grateful for all that our science professors do when grading things like lab reports," Townsley said.
Henin also noted the originality in many of the science fair projects. "Many of the students were able to apply their creativity to design thorough experiments that address interesting scientific questions," she said. Gagnon similarly shared, "Science fairs have always served as a way for young students to explore the world of science in a fun and competitive way. At Donelson Christian Academy, the middle school science fair was nothing short of impressive, as the vast majority of the students went above and beyond to express their creativity, while making excellent use of the scientific method."
When asked about the science fair, McDay said, "It was truly an amazing experience and it was great being a part of the team. To start, I would just say how honored I was to even be considered to help out. Being able to speak to one of the high school students and share the knowledge that I have gained during my course of study here at Belmont was the most rewarding experience of the event. I felt as though the conversation had just as much of a benefit for me as it did for the young man I spoke with, allowing me to clearly see the path that I have taken and what worked for me that may be useful for him. I also really enjoyed the judging process of analyzing the experiments. Even though the students were young, many of the experiments were very creative and intuitive. I felt very humbled and reminisced about how much simpler research was. The entire afternoon made me respect how much effort goes into doing an experiment and judging them. But ultimately made me appreciate what I learned in middle and high school that helped prepare me for college."