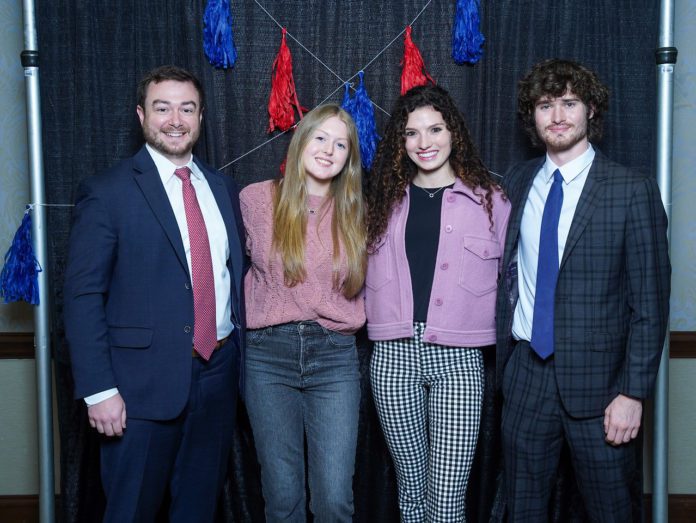 Belmont University senior Camden Lee recalls walking into a restaurant near campus last October to meet with someone a few years older and a few years wiser–Belmont alumnus Ben Maslyn. Lee, a business systems and analytics major, was navigating life while also battling the effects of long-term COVID, hardly able to stand longer than five minutes. So, this meeting was exactly what he needed and came at the perfect time. Maslyn, Lee and two other students were gathering for the first time as a "mentor circle" through Belmont's inaugural Purpose Mentorship Program, funded by the Arthur Vining Davis Foundation and the Coalition for Life Transforming Education.
After that first meeting, Lee and his group met each month through April, journeying together in discovering their purpose from Belmont to beyond. Launched this year from the Office of the President, the program matches Belmont alumni who have shown a commitment to higher purpose in their careers with current students to help them on their purpose journey. The initiative was launched in conjunction with the first Discovering Purpose class led by President Dr. Greg Jones and Rev. Susan Pendleton Jones.
Vice President for Transformative Innovation, Character and Purpose and the lead of Belmont's campus-wide purpose work Dr. Amy Crook said, "As a Christ-centered University, we believe in fostering student imaginations for dreams that are less concerned with self-ambition and more oriented toward helping communities thrive. The purpose mentorship program cultivates this connection of one's heart for others within students' desired career paths."
Because of his group, Lee said he feels closer to the path he wants to be on. "As an upcoming graduate, I have learned a lot about the post-college transition, and having a resource like Ben has been invaluable to me," he said. "This program helped me realize that I should be chasing what I want; I should not be afraid of what I love. I should seek a good life, not just a good career or money. And I've already put these lessons into action, pursuing an internship I would not have seen myself in six months ago."
Belmont's Curb College of Entertainment and Music Business and the Massey College of Business piloted the program. Alumni were recommended by faculty and staff based on their outstanding character, humility and servant leadership along with their professional success. Each mentor circle, which included one of the 16 mentors and 2-5 students, met monthly to walk through how one's purpose matures from college years to their life beyond graduation.
The relationships formed will be vital for students as they make difficult decisions about their career paths, however, proving more vital will be their help in leaning into the deeper questions about what stirs their hearts to action and how they can pursue their passions.
Mentors completed a training program before meeting with their group, prepped and ready with curriculum-based starter discussion topics. The alumni mentors engaged in their own self-reflection and practiced leading purpose mentoring topics with each other in preparation for their roles with students.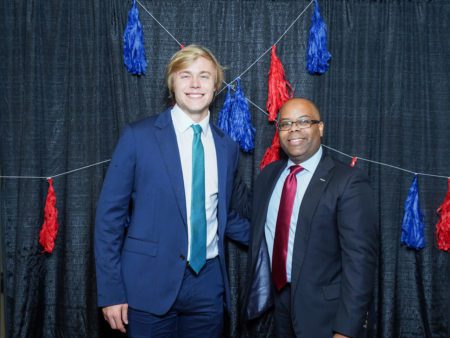 Lee and Maslyn shared their experience together at a celebration dinner on April 11 for participants of both the program and the class.
"Being an inaugural program, I was thrilled to come in with an open mind and ready to meet my mentees, while also having the autonomy of leading these students on the journey or realization of their Purpose. At the same time, I was excited to further explore my own Purpose," said Maslyn, a two-time Belmont alumnus who currently works at Truist Wealth as a VP and investment manager. "I had my mentees update their 'Purpose statement' each time we met, and it was fascinating to see how our Purpose changed in every time period. Selfishly, I wish I had something like this when I was in undergrad, so I knew I wanted to push my mentees into a motivating mindset. We were able to meet in a format that truly allowed them to learn and grow."
Crook explained the program emphasizes that students do not have just one purpose they have to find and then "that's it." Rather, one's purpose is a continuous journey of getting closer to who you are meant to be and asking how you can help others flourish.
"We want students to realize they are more than their job. Their ultimate happiness, fulfillment, joy and ability to make the world a better place is much larger than their job titles," she said. "We aren't just training students for a job, we are forming whole people and we want them to feel confident in exploring these bigger questions. And we are doing so through supportive, caring contacts who can be honest about the obstacles they faced and the opportunities where they were able to make choices to have a more fulfilling life."
See photos from the celebration dinner here.