When the Moosic City Dairy Dash 5K was canceled due to COVID-19, Belmont University Sport Administration Professors, Drs. Ted Peetz and Adam Pfleegor, still wanted to give the runners the race day feel.
Peetz and Pfleegor wanted to see if they could coordinate the delivery of more than 700 race T-shirts to participants. The two professors sent an email asking for help and their students responded. Within hours, more than a dozen students stepped up and volunteered to hand deliver shirts across middle Tennessee.
"Our Sport Administration students have been partnering with this race for a few years and we wanted to do what we could to help," explained Peetz. "Because of the current situation, our students are all over the country. I was hoping there would be a few in town who could help execute the plan. I knew our students would come through; it's the Belmont way."
Pfleegor added, "Shipping that many T-shirts becomes a huge cost for the charity. In the end, that money doesn't go to the TN Voices, and the goal has always been to raise as much as we can.
Last week, students traveled through the Nashville Area dropping off shirts and encouraging participants to run the race, even though it is a bit different than in past years. Other students in the program are helping manage the social media portion of the race.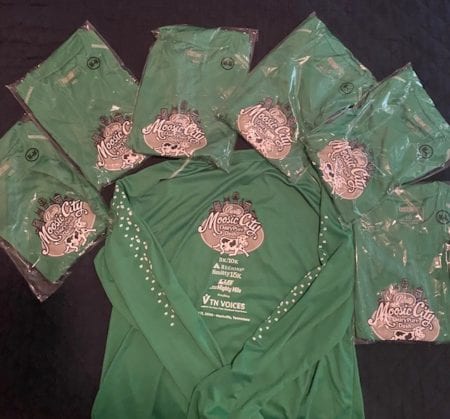 Pfleegor explained, "We hope people will wear their shirts proudly and post their accomplishment. It is for a great cause and we are happy we could do our part to make it a success."
The Moosic City Dairy Dash has raised more than one million dollars for charity since it began 20 years ago. With the support of its dedicated sponsors and Belmont Sport Administration students, the race is projected to raise more than $125,000 this year, although final tallies are still climbing. The two professors are also asking the Belmont community to show support for the race by doing a "solo run" using the Hashtags #DairyDash2020 and #TNVoicesStrong through the week of April 18-25.