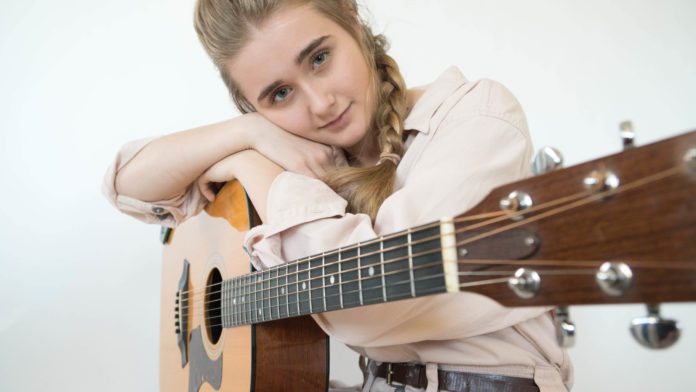 Variety Magazine just announced Belmont sophomore Liz Kate as the newest addition to the cast in the upcoming Universal movie, "Dear Evan Hansen," a film adaptation of the acclaimed musical, which garnered six Tony Awards. Liz Kate is joining the extremely star-studded cast including Julianne Moore, Amy Adams, Ben Platt, Kaitlyn Dever and Amandla Stenberg.
Currently pursuing a songwriting major, Liz Kate grew up in a home where creativity was always encouraged by her family. Additionally, as a current resident of Atlanta, she's been acting and songwriting in this location's market all while learning from what the industry has to offer.
The balance between songwriting and acting is one Liz Kate has been practicing for the past 13 years, even throughout her freshman year at Belmont. "There were several times I had to grab my roommate and self-tape an audition in an empty room," she laughed. While auditioning in the South has utilized self-taping for some time now, COVID-19 has made the process fully virtual.
Since she was little, the Atlanta actress knew Belmont would suit her long-term goals in entertainment. She shared that Nashville immediately felt like home and Belmont's stellar reputation in the music industry solidified that choice for her. Since then, Belmont's rigorous courses and professional atmosphere have prepared her for this opportunity.
She also expressed gratitude for the tight-knit Belmont community. "When you step on campus, people change your life," she explained, crediting several of her professors (Drew Ramsey and Jodi Marr in songwriting, Dr. Cynthia Curtis in theology and Yvonne Bland in communications) with impacting her development.
As someone who's practiced two creative hobbies for years, Liz Kate shared the importance of storytelling throughout her work. She credits her longtime songwriting coach, Vanessa Olivarez (Granville Automatic, The Hidden History of Music Row), who has pushed her to develop an emotional meaning and connection through lyricism.
Other mentoring and training under professionals such as Mama Jan, Julia Haltigan, Kendra Morris, Matt Arnett and Eddie Owen have given Liz Kate a unique edge. She shared that, "nature, relationships, art and current events are all inspiring to my expression in many ways creatively, but it looks different every day."
A dedicated and involved student, Liz Kate is also involved in greek life on campus, as well as Belmont University's Songwriting Association and Crosspoint Church. This semester, Liz Kate is completing her courses remotely as she works to balance her classes and her acting career simultaneously with music. As a student who is dedicated to both her school work and a blossoming career, she encourages other students to "be persistent in the work that you wish to pursue."
Liz Kate has learned that the film and television industry calls for 'thick skin' when rejection comes into play. "It's not always easy, but I think the various training and workshops I've taken all have shaped me into the person that I am today," she said. "It's about being the best version of yourself and learning from the people that are around you. I think it's important to soak in everything, not make it about competition, but instead make it about bettering yourself."
Liz Kate shared she is excited to return to Belmont to continue her studies, acting and work on her upcoming album. "I'm also looking forward to being back on campus with my sisters in the spring," she said as Phi Mu sorority recognized her for her upcoming role.
For more updates on Liz Kate's role in the upcoming film, Dear Evan Hansen, follow her on Instagram @lizkatemusic or visit her website lizkate.com.