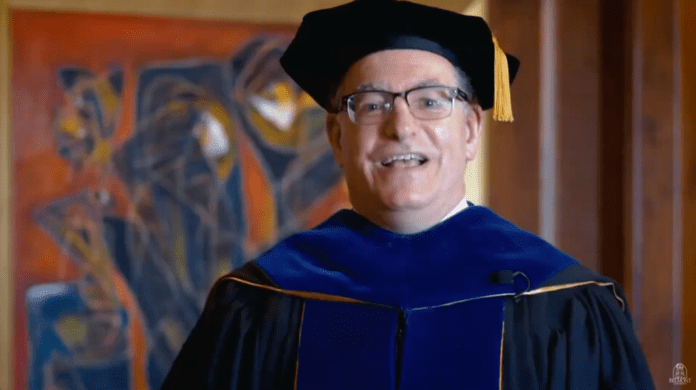 Belmont continued last year's virtual Scholarship and Awards Day format for this year's ceremony through the University's Instagram account and YouTube channel in order to recognize top students and faculty. Finalists are honored annually for their commitment to the University's mission and dedication to scholarship, service and leadership.
Provost Dr. Thomas Burns introduced the awards ceremony by saying, "Although we had hoped to celebrate in face-to-face fashion this year, I wanted to ensure that we keep the tradition alive of celebrating the Scholarship and Awards of faculty and students by recognizing the incredible achievements they have made. By continuing the tradition of Scholarship and Awards Day, we are reaffirming our commitment to learning and discovery by honoring those who have exhibited extraordinary dedication to scholarly achievement."
Each year, the presentation of the John A. Williams Heart of Belmont Award is greatly anticipated. The award honors one third year or fourth year student who embodies Belmont's values, including innovation, persistence, advocacy for change, community development and service.
This year's recipient, Carlos Antwan McDay, is a biology major who will matriculate into physician assistant school in June after graduation. Prior to his time at Belmont, McDay served in the Navy for eight years. Upon honorable discharge from the Navy, he served as a Patrol Officer with the Savannah Police Department; where he was compelled to become a youth sports coach, in his own words "to keep young boys and girls motivated and away from crime." His nominator attests, "Carlos stands out among his peers with regard to his commitment to service. He is a member of the Bruin Veterans Association and received the Belmont University Veteran Student Spotlight Award in 2020. I cannot speak highly enough of Carlos' character. He upholds himself to high values and standards and gives his all to the activities and efforts he is engaged in."
In reference to his accomplishments, McDay stated, "Through integrity, inquiry, collaboration, service and humility, I advocate for justice and equality with all that I do, in hope that my example reaches others who then follow that example."
As part of this award, a donation will be made in McDay's name to Tunes for Kidz.
Others honored in Tuesday's ceremony included:
The Williams-Murray First Year Writing Award
Julia Willams for the essay "Always Watching"
Ivana Carlson for the essay "Shostakovich: The Man Who Kept Fighting"
The Alfred Leland Crabb Awards
First Prize:

 

 Peyton Burnstead for her work "Resolution of the Self, Community and World"
Second Prize: Amanda Tigar for her work "Biscuit Takes Inventory"
The Stacy Awalt Writing Award: Matt Lay for his research work, "Hobbes on the Trinity" and Jack Lovell for his creative work "Augustine: God, Mysticism, Belief and Me"

The Annette Sisson First Year Seminar Award: Lindsey Gross for her essay: "Systemic Racism is Present in America"

The Dr. Fannie Hewlett Award
Undergraduate Recipient: Michele George-Griffin
Graduate Recipient: Ben Nigel Heard
The Belmont Graduate-Student Scholarship Award: Jessica Smith

The Belmont Graduate-Student Leadership Award: Leigh Holdsambeck
Hale First Year Leadership Award: Hank Keller

Hale Second Year Leadership Award: Chamberlin Little
Hale Third Year Leadership Award: Matt McGowin

Hale Fourth Year Leadership Award: Marissa Avnaim

John A. Williams Heart of Belmont Award: senior biology major Carlos Antwan McDay and Community Partnership: Tunes for Kidz
In addition to student award winners, a number of awards were given to faculty members. The Christian Scholarship Award honors faculty scholarship that engages the Christian intellectual tradition and advances the scholarly conversation between Christian faith and learning. This year's recipient was Dr. Christopher Born, assistant professor of Asian studies and Japanese language. Dr. Born's research centers on the role of Christianity in Japanese culture. More importantly, he actively seeks Belmont students to collaborate with him by helping them cultivate undergraduate research that is energized by his knowledge and scholarship on the topic.
The Leadership in Christian Service Award honors a faculty member who provides leadership to a new initiative or an established Christian organization that serves those in need. This year's recipient was Dr. Stephen Shin, associate professor of sport administration. Dr. Shin stated, "I believe that interweaving Christian faith to Belmont education should be second to none, and I have been very grateful to be a part of the CLASS Faith and Academics Committee to serve God and the Belmont community."
The Faculty Award for Scholarship recognizes a faculty member for outstanding intellectual and creative contributions of discovery, integration, application or teaching. This year's finalists included Dr. Cheryl Slay Carr, associate dean and professor of music business, Dr. Alejandra Ferrer, assistant professor of music and coordinator of music therapy, Dr. Scott Hawley, professor of physics, and Dr. Teresa Plummer, associate professor of occupational therapy. The recipient this year is Dr. Teresa Plummer, whose passion and expertise in early pediatric mobility led her to start the Music City Go Baby Go initiative, providing modified ride-on cars to young children with limited mobility with no cost to families in collaboration with Belmont occupational therapy students.
Dr. Peter Kuryla, associate professor of history, was named the 2020-21 Chaney Distinguished Professor. The Chaney Distinguished Professor Award, determined on the basis of superior teaching, is presented each year to a faculty member who best represents the vision of the University to be a "premier teaching institution." Award finalists also included Dr. Patrick Morse, assistant professor of psychology, Dr. Andi Stepnick, professor of sociology, and Dr. Jennifer Crowell Thompson, associate professor of social work.
Dr. José González, assistant professor of entrepreneurship and management, received the Presidential Faculty Achievement Award. This award is presented each year to a faculty member who has made outstanding contributions to student life outside the classroom. Other finalists included Dr. Amy Crook, assistant professor of management, Julie Hunt, assistant professor of social work, and Dr. Ted Peetz, chair and associate professor of sport administration.
Watch the full ceremony here.