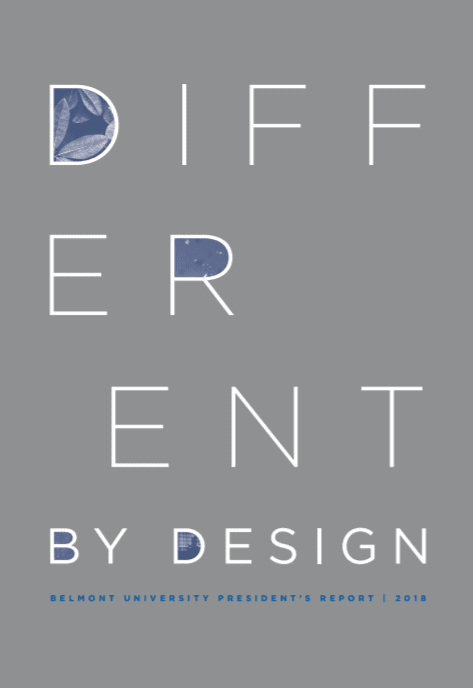 Belmont University's 2018 President's Report, "Different by Design," was recently awarded a Gold level Circle of Excellence Award in the Council for Advancement and Support of Education's 2020 CASE Awards in the Design | Multi-Page Publications category.
Each year the CASE Circle of Excellence Awards recognize hundreds of institutions whose talented staff members advanced their institutions last year through innovative, inspiring and creative ideas. View the "Different by Design" entry at case.org/awards/circle-excellence/2020/different-design.
The 2018 Belmont University President's Annual Report celebrates the intention behind the University's decisions to take on events, projects and partnerships that set it apart from other universities while highlighting the recent acquisition of a local design college, and announcing Middle Tennessee's first Bachelor of Architecture. To support the theme "Different By Design," the report materials were designed to mimic the multi-faceted, unique and creative spirit of the University through a balance of varied visual motifs paired with a foundational stylistic framework. Within this, the report shares campus news while relaying the institution's overall financial standing, provides an update on philanthropy and includes a list of university donors.
The CASE Award judges wrote of the report: "The cover has nice foil stamping and die-cuts. The design is engaging and cohesive with nice font changes and design flourishes. The graphical elements and typography are crisp. The piece does a very good job enlivening otherwise standard photography of people and buildings with beautiful and vibrant illustrations. There is a great use of color throughout the piece. The paper quality is lovely, and the half pages add a nice element to the piece. The design has many innovative elements but isn't over the top. Well done!"
"These awards demonstrate our members' success in advancing their institutions through their remarkable and varied work across all advancement disciplines," said Sue Cunningham, CASE President and CEO. "The CASE Circle of Excellence Awards demonstrate creativity and strategy. They are a great source of inspiration and ideas for your own institutions. Congratulations to all the Circle of Excellence award recipients. Not only are you being celebrated for excellence, your work engages important communities in the life of your campuses and institutions, advancing education to transform lives and society."  
More facts and stats can be found at www.case.org/circle