Belmont's annual community night event livens the Curb Event Center up every year as thousands of local Nashvillians make their way to campus for a night of family activities, free food and cheering for the Bruins. The event has become a significant staple on campus for the University to show the community how much it appreciates their support.
After a dinner of hot dogs, chips and sodas, guests were ushered upstairs for the Men's Basketball game against Tennessee State University. The Women's team defeated TSU with a final score of 70-58, and the Men's Team came out with the same outcome, defeating the Tigers 74-51.
Elements of Community night were made possible through sponsorships from Five-Star Food Service, Pepsi, Nashville Electric Service, Citizens Bank and Grayline.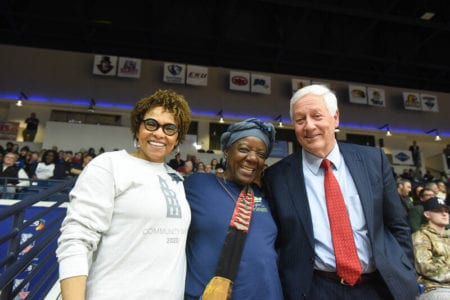 One event attendee has brought the residents of one of Metro's Development and Housing Agency's communities to the event for the past three years. Social Service Coordinator John Walker said, "This night gets our residents out of their own community since most of them do not have transportation and lets them know that a Greater Nashville exists. It lets them know that there are other people that think about them, care about them and would like to enjoy their company," he said. "This year is fun because I am actually a TSU graduate and I got to come and watch my school while enjoying Belmont's hospitality. But mostly, it's the experience for the people that I serve. I hope they come away with a sense of community, a thankfulness for the kindness of Belmont and a connection to the sporting event between two local schools in Nashville."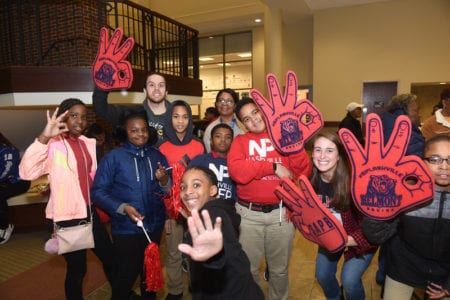 Bishop Calvin Barlow, Jr. from the Second Missionary Baptist Church opened the game in prayer. The game ball was presented by Metro Council Member-at-Large Sharon Hurt, who is an alumna of both TSU and Belmont and currently serves as the chair of the Metro Council Minority Caucus. Fans cheered the team to victory and were extra excited when the legendary Red Panda performed at half time.
Walker added, "I appreciate Joyce Searcy [Belmont's director of community relations] for inviting us, and we will be here next year."