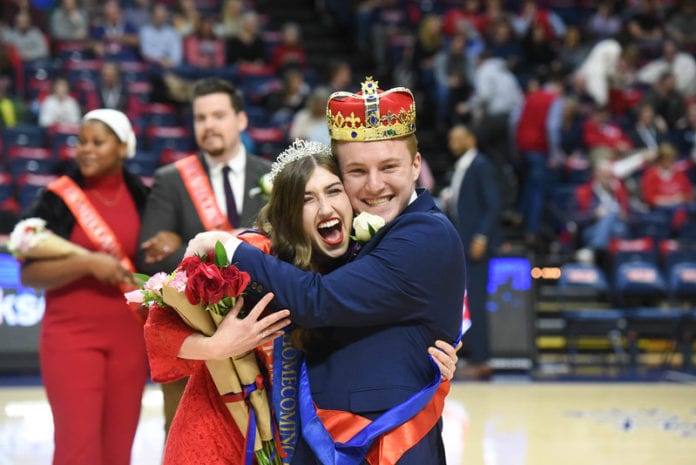 Belmont celebrated Homecoming February 10 – 15, 2020 with events scheduled on campus throughout the week, providing the opportunity for alumni, students, faculty and staff to come together to celebrate life at Belmont.
For the past few years, the Homecoming celebration has focused on a theme each day of the week.
Mission Monday kicked off the week with a Homecoming Chapel alumni panel (Photo gallery here), an alumni non-profit fair, and open house and O'More College alumni panel in the Leu Center for the Visual Arts. Monday also included the first event in the Jack C. Massey College of Business Legacy Lecture series with Entrepreneurship Professor Jeff Cornwall.
Students were also invited to "Build a Bruin" (Photo gallery here). Other bears dressed for Homecoming by departments and organizations around campus were on display and voted on social media to determine the Best Bear of All. View a photo gallery of all the bears here and the Top 11 bears here. Wonder Bruin (pictured), designed by the Belmont Store, was named the winner.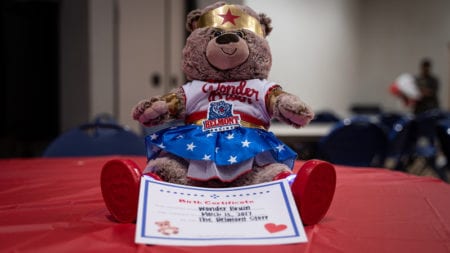 On T-Shirt Tuesday, students were encouraged to wear merch to represent the student organizations around campus, and there were Homecoming t-shirts handed out, designed by student Abraham Mast (Photo gallery here). There was a gallery talk around the Faculty Art Exhibition in the Leu Art Gallery, which will be on display through February 28. Marketing Professor Jeff Overby presented the second Legacy Lecture on International Business Inventory and Global Awareness Training. The night concluded with a Symphony and String Chamber Orchestra Concert.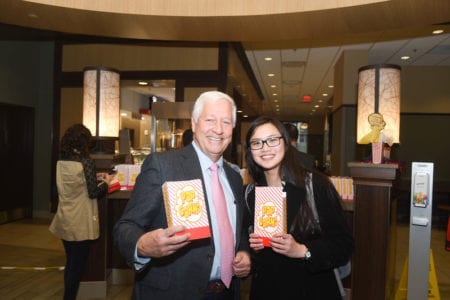 Wow Wednesday launched with University Staff Advisory Council members handing out free donut holes and coffee to passersby in the Massey Business Center lobby (Photo gallery here.) The Office of Career and Professional Development sponsored a skills studio event focused on "what employers really want." The Dining Hall featured a "Chef's Table" with Provost Dr. Thomas Burns and student Ryan Sheldon behind the grill (Photo gallery here.) The afternoon continued to "wow" campus as senior leaders served a popcorn bar, complete with marshmellows, chocolate chips and other decadant toppings (Photo gallery here). The third Legacy Lecture series event featured Director of the Kennedy Center for Business Ethics Boyd Smith. Belmont's pep band spread spirit as they marched around campus and helped students get excited for the DJ Competition and Dance Party later that night in the Beaman (Photo gallery here).
Thank You Thursday gave students, faculty and staff the opportunity to write thank you cards for their colleagues and peers. Alumni Relations also hosted the Belmont Faithful Thank You Luncheon in Harrington Place Dining Hall for donors who have made consecutive gifts for two or more years (Photo gallery here). Belmont hosted Community Night at the Men and Women's basketball games against Tennessee State University, inviting the community to come out for a night of free food, activities and basketball (Photo gallery here).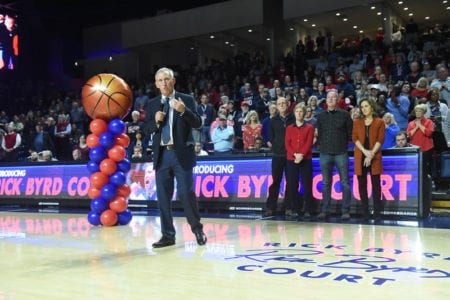 FANtastic Friday began with Homecoming Chapel featuring alumni Luke Putney and Cathy Jennings, discussing overcoming adversity (Photo gallery here). Assistant Professor of Communication Studies Dr. Jeremy Fyke delivered the annual Robert E. Simmons Distinguished Faculty Lecture. The afternoon included the third annual corn hole classic and several baseball and softball games. The night ended with the 8th Annual Homecoming in the Round Concert, featuring Chad Cates, Mike Grayson, Bekah Joel, Kevin Monahan, CJ Solar, Cheryl and Adam Stark, and Anna Vaus (Photo gallery here.)
Homecoming Saturday invited alumni back to campus for reunions, open houses and the Tower Society Reunion, Annual Brunch and Induction Ceremony, celebrating the elite group of alumni from Belmont's 50-year and earlier classes (Photo gallery here). Presidential scholars gathered (Photo gallery here), the campus community spent time in prayer and thanksgiving to God for the many ways He has blessed the Belmont community, beginning with remarks from Betty Wiseman and ending with a prayer walk around campus (Photo gallery here), and the sounds of the annual Homecoming Carillon Concert could be heard from the Bell Tower.
Jim 'n Nicks catered the Tailgate at the Tower before the double header (Photo gallery here). Athletics played a slew of games, including softball against Western Michigan and later Green Bay, Baseball against Kansas and the Men and Women's basketball teams' wins against Jacksonville State. Between the basketball games, the basketball court was named after Former Head Coach Rick Byrd (Photo gallery here). The 2020 Homecoming Court was announced during halftime of the Men's game (Photo gallery here). Phi Mu Alpha Sinfonia's Sinfonian Band performed a concert after the game, and alumni were invited to a Homecoming Social at Chago's Cantina.
To view a full collection of the Homecoming 2020 galleries, click here.