The Belmont University Scholarship and Awards Day is a special day honoring faculty and students who have achieved success in their educational endeavors. The 2019 ceremony, held on April 10, began with welcoming remarks from Belmont University President Dr. Bob Fisher. After speaking to the importance of the day and thanking family members for attending, Provost Dr. Thomas Burns took over and honored students who made the dean's list for fall 2018 and retired faculty.
Before the awards were presented, Dr. Vaughn May, professor of political science and recipient of the 2017-2018 Chaney Distinguished Professor Award, gave the Honors Address speaking to the intellectual curiosity of students at Belmont. He also commented on the community fostered by faculty, staff and students at Belmont. "We are all blessed to be a part of this community," said May.
The highly anticipated John Williams Heart of Belmont Award is awarded each year to a student who demonstrates a variety of Belmont's values and commitment to service. The award looks specifically at a student who excels in problem solving abilities, advocacy for change that enhances lives of the people in the community and understanding the needs of the community while building relationships with them. This years Heart of Belmont Award was given to Marcie Bulla, a senior biology major. Bulla founded the organization Belmont Medical Brigades that goes on mission trips to serve communities around the world. Nominating faculty said that Bulla "displays a heart of service" and that she "truly thrives when she is serving others."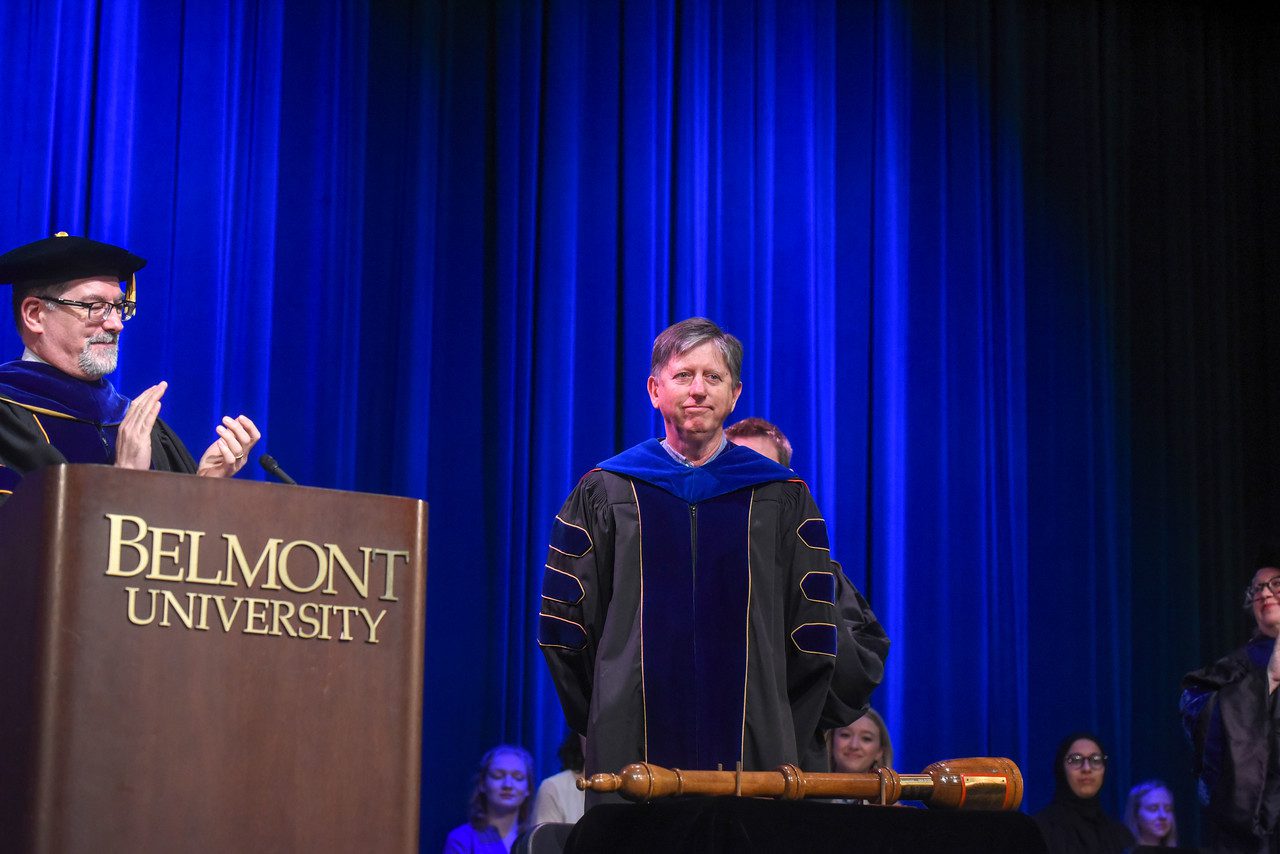 Other anticipated awards include those honoring Belmont faculty for their commitment to the university, its mission and their students. The Chaney Distinguished Professor Award recognizes a faculty member who represents the vision of the university and is determined on the basis of superior teaching in the classroom. The Chaney Distinguished Professor Award for 2018-2019 was awarded to Dr. Jimmy Davis, professor of communication studies. Davis has served Belmont since 1987 in a variety of capacities, including as professor for more than 15 years. Students attest that Davis and his classes are "always entertaining and challenging" while showing that he is an "extraordinarily dedicated teacher… who challenges his students."
The Presidential Faculty Achievement Award honors a faculty member who has made outstanding contributions to their students lives, both inside and outside of the classroom. The recipient of this year's award was Dr. Amy Hodges Hamilton, professor of English. Hodges Hamilton is involved not only on Belmont's campus but also in the Nashville community and regularly encourages her students to get involved alongside her. Students praise Hodges Hamilton as a professor saying she "takes pride in getting to know each of her students" and that "she embodies the phrase: 'When you learn, teach. When you get, give.'"
Other awards presented include:
The Williams-Murray First Year Writing Award: Anna Thompson and Mary Frances White.
The Alfred Leland Crabb Award, Creative: Sydney Queen.
The Alfred Leland Crabb Award, Research/Analytical: Sophie Lasher.
The Stacy Awalt Writing Award: Peyton Harrington.
The Annette Sisson First Year Seminar Award: Caitlyn Kimiko Ferral.
The Lumos Travel Award: Christopher Hansen, traveling to Haiti, Rebekah McKerley, traveling to Uganda, Jessica Molloy, traveling to the Dominican Republic, Kathryn Wurm, traveling to India, Jordan Dunn, traveling to Nepal.
The Dr. Fannie Hewlett Award, Undergraduate: LeAndrea Wallace.
The Dr. Fannie Hewlett Award, Graduate: Caleb Darensbourg.
The University Hale Leadership Award, First Year: Zachary William Kurtz, history major.
The University Hale Leadership Award, Second Year: Haleema Shamsuddin, Honors, biochemistry and molecular biology major.
The University Hale Leadership Award, Third Year: Madalyn Nicole Vanarthos, music therapy major.
The University Hale Leadership Award, Fourth Year: Mary Barber, Presidential Scholar, chemistry major.
The Christian Scholarship Award: Dr. Bonnie Smith Whitehouse, Director of the Honors Program and professor of English.
The Leadership in Christian Service Award: Dr. Mona Ivey-Soto, assistant professor of education.
The Scholarship Award: Dr. Mark Schenkel, professor of entrepreneurship.
Visit the Belmont photo gallery to view more images from today's event.