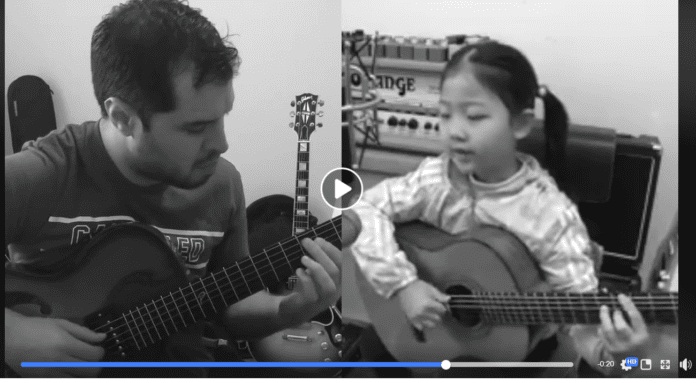 Dr. Paulo Oliveira, assistant professor of guitar studies, is making the most of his time at home during the Coronavirus concerns. On Friday, March 20, he posted a video to his Facebook page and Youtube channel of himself playing guitar on a split screen along with a video of a young girl from Nanjing, China playing a song.
Oliveira captioned the video: "This morning I came a cross a video of a little girl playing a beautiful song on the guitar. I watched it four times in a row. Her purity and her freedom from society's current fear and uncertainty hit me hard. This video just made me so happy. Her name is Miumiu, a six-year-old guitarist based in Nanjing, China. I obviously do not know her at all, but I feel like a got a new friend and someone to share the beautiful gift of music. Stay safe my friends, and enjoy my little duo with Miumiu."
The next day, Oliveira shared to Facebook that Miumiu had seen his video and wrote him back. Her message read, "I can't understand your performance because of my age and my level. But I can hear that your performance is great. It makes my songs sound more perfect. I think your attention will make me more motivated to study and play hard. I will become better just like you."
By the next Monday, the duo posted their second video together.
"It has been heartbreaking to look at the news on TV and on social media. It is difficult to conceive the proportion of the planet's current situation. As a way to stop thinking about all this I thought I should share with my friends something that will offer them a couple minutes of joy throughout their day. This is the second video I make with my newest friend Miumiu from China," wrote Oliveira. "I promised her I was going to make a second video, and if you promise something like that to a six-year old, you better do it! It is simple, but making this just made me very happy. Enjoy!"
Both videos have garnered a lot of attention, likes, shares and comments on Facebook. Oliveira wrote, "Music will not cure the virus, but it is definitely one of the most powerful coping mechanisms we have available right now! Share the love, share music!"