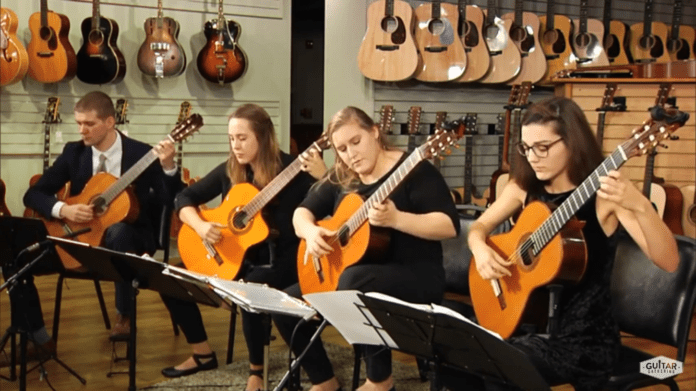 The Guitar Gathering featured 15 students from the Belmont Guitar Ensemble in its live-streamed classical guitar lesson on November 19. The Guitar Gathering is an online community of guitar lovers of all types and skill levels that talk guitars, ask questions and learn from professionals and other guitar learners from all over the world.
Guitar Gathering hosts a series of live lessons on most Tuesday nights with Nashville guitarist and educator Steve Krenz. The series features discussions with world class guest artists, helpful information on being a better guitarist and interactions with guitarists all over the world.
The Belmont Guitar Ensemble and Director Robert Thompson stopped by Gruhn Guitars to perform for the live-streamed lesson on the Guitar Gathering Youtube channel, which has 17,000 subscribers. Thompson was able to discuss each piece the ensemble played and answer viewers' questions in real time.
Krenz said, "Belmont is one of the top music schools in the nation, and we are fortunate to have it just down the road from where we are sitting. The folks that are able to come through Belmont's program are very fortunate. In fact, I saw just the other day that the CMA Instrumentalist of the Year is a Belmont alumna: Jenee Fleenor, the first female in history to win CMA Musician of the Year. It's just amazing the quality of musicians that are coming out of Belmont."
Songs from the lesson included:
"Moliendo Café" by Jose Perroni – Performed by: Rachel Chalmers, Hannah Keglovits, Andrew McDowell and Madalyn Vanarthos
"E Ai? (What's Up)" by Stefan Oser – Performed by: Ted Bryant and Nicolas Phillips
"Samba Feliz" by Stefan Oser- Performed by: Sean Jannay and Dermot Berg
"Drewries Accordes" by Anonymous (Arr. by Patrick Russ) – Performed by: Nicholas Phillips and Jackson Fickert-Rowland
"Joropo" by Alfonso Montes – Performed by: Johnny Eisenstat and Nicholas Phillips
"Fool on the Hill" by Lennon/McCartney (Arr. by Leo Brouwer) – Performed by: Sam Burns and Jackson Rickert-Rowland
"Agua e Vinho" by Egberto Gismonti (Arr. Frevo Duo) – Performed by: Luke Sunderland and Madalyn Vanarthos
"Imagens Do Nordeste" by Celso Machado – Performed by: Rachel Chalmers and Hannah Keglovits
"Souvenir de Russie, Op. 63″ by Fernando Sor – Performed by: Quinten Callawert and David Shivers
Thompson said of the classical ensemble, "It's a class at Belmont, but it's more like a community of folks that really get to know each other and have fun making music. That, to me, is what it's all about."