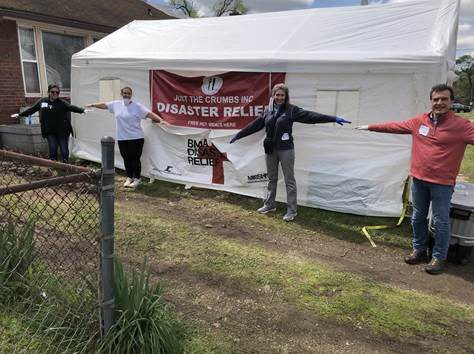 Great work is being done out of First Community Church, which is working with Project Connect Nashville, a Christian social service ministry that began in the aftermath of the 2010 flood. Belmont has come alongside these community partners to help staff their disaster response team, serving those in North Nashville who suffered tornado devastation, followed by the Covid-19 lockdown, and now the massive loss of employment.
The response team from Mississippi has a commercial kitchen on wheels at the site of the church's Storehouse. The Storehouse also has rooms full of needed supplies, from diapers and formula to household cleaning products and toilet paper.
Belmont is continuously providing drivers with cars to deliver 250 meals a day to those who can't come to the site, and to help sort donations of clothing, food, etc. In addition to doing the delivery in a one-mile radius, volunteers ask (from a safe distance) if those who are unable to leave their homes need additional supplies. In that case, the drivers return to the Storehouse to pick up and deliver supplies.
Vice President of Spiritual Development Dr. Todd Lake said, "Each day, Belmont faculty and staff volunteers from across departments and colleges are living out our calling to be Nashville's university as we exemplify our Christian faith by responding to the imperative expressed in James 1:22, which states, 'Do not merely listen to the word…Do what it says.'"
Gloves, hand sanitizer and safe distancing procedures are being used, and only the driver (and members of his or her household) do the deliveries. Those interested in signing up for a volunteer shift from 11 a.m. – 1 p.m. can do so here.