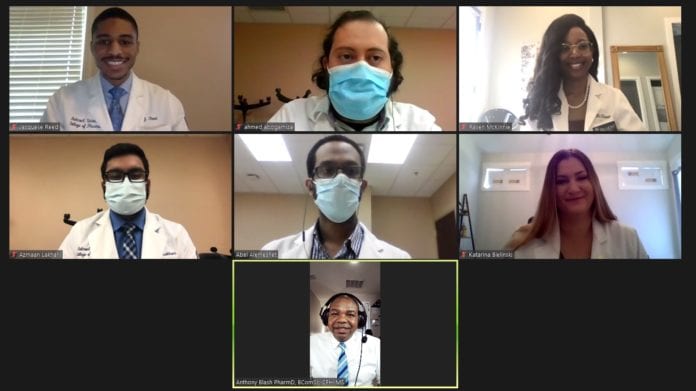 Belmont University College of Pharmacy third-year students Jacquese Reed, Raven McKinnie, Abel Alemeshet, Katarina Bielinski, Azmaan Lakhani and Ahmed Abogamiza took on the task of updating an Amazon Alexa skill for the Top 300 most prescribed drugs, in addition to incorporating recently approved drugs. Upon searching for a particular drug, a user will be given information for proper medication management. This includes storage information, administration techniques, common side effects and when to contact a primary care provider. Such a skill will revolutionize the way patients are able to receive information.
The first Alexa skill at hand was initially developed collectively by a previous informatics group at Belmont. The current informatics team was responsible for updating pertinent information for each medication in addition to creating a separate skill altogether.
"My Medicine Cabinet" is the Alexa skill that contains all of the previously mentioned information in relation to the top 300 most prescribed medications. The skill was updated to reflect current changes in prescribing practices. All of the information contained within the skill is pharmacist verified and available for retrieval upon request. This skill can be accessed at no charge either online or via the Alexa application.
"My Medicine Cabinet Part 2" is an additional Alexa skill that was created for the purpose of reflecting top recently approved medications. The FDA releases this information each year. Relevant data going back to 2015 was examined and incorporated into this skill.
Belmont University's College of Pharmacy is a HIMSS Approved Education Partner and is the only pharmacy school with a healthcare informatics concentration leading to internationally recognized certification in healthcare informatics. This is often obtained prior to experiential rotations, residency inquiries and job searches begin. Collaboration with a number of organizations takes place and regional partners takes place during the school year.
Belmont's Pharmacy informatics team collaborates with interested organizations to provide competent student and graduate healthcare informaticians with clinical knowledge as grad-student team members. It plans to expand its program to include residents and/or fellows. This collaboration would be of no cost to the partnering organization and could help advance Healthcare Informatics initiatives currently underway or in the planning phase. To find out more about this exciting opportunity, please contact Dr. Blash at Anthony.Blash@belmont.edu