Belmont University's College of Pharmacy hosted the Fifth Annual Middle Tennessee Antimicrobial Stewardship Symposium on March 26 via Zoom. The virtual event attracted pharmacists, nurses, physicians, residents and students from across the country and Saudi Arabia to learn and discuss ways to work together as a medical community to improve appropriate antimicrobial use and mitigate risks. Featured speakers represented several states, and Vanderbilt's Dr. Buddy Creech gave the keynote presentation – an update on COVID-19 vaccines.
Creech, MD, MPH, FPIDS is associate professor of pediatrics, Division of Pediatric Infectious Diseases, at the Vanderbilt University School of Medicine. He serves as director of the Vanderbilt Vaccine Research Program, principal investigator of the NIH-funded Vanderbilt Vaccine and Treatment Evaluation Unit, and co-principal investigator of the CDC-sponsored Clinical Immunization Safety Assessment Network. Dr. Creech's research interests focus on the development and evaluation of new vaccines and therapeutics. He is currently leading COVID-related clinical trials at VUMC, including the evaluation of novel treatment options for hospitalized patients with COVID and trials of candidate SARS-CoV-2 vaccines.
Dr. Montgomery Green, associate professor of pharmacy practice at Belmont, said this year's symposium was particularly meaningful and important to host in light of the current pandemic. "Participants in the symposium are all those who have been on the front lines since the beginning and have led their institutions and practices response based on their expertise. We were delighted to still be able to offer the program this year and gather together in a virtual format," Green said. "The symposium highlighted the work that has been done by healthcare practitioners in various practices in response to COVID-19, as well as provided education on the vaccine. We were also able to continue with the previous mission of the symposium to share innovations in current practice in non-COVID-19 related antimicrobial stewardship activities and collaborate with those in the field. With attendees from Oregon to Rhode Island to Florida and Saudi Arabia, the event was truly an international gathering."
The event was planned and hosted by Green; Dr. Kelly Byrge, assistant professor with Vanderbilt University School of Medicine, Dr. Shaefer Spires, assistant professor of medicine with Duke University, Dr. Kathryn Dambrino, assistant professor with Belmont School of Nursing, Dr. Athena Hobbs, infectious diseases clinical pharmacy coordinator with Methodist University Hospital in Memphis, Dr. Christopher Evans, pharmacist with the Tennessee Department of Health, Wiyanna Bruck, clinical pharmacist & assistant professor with South College in Knoxville, and Laura Hyde, continuing education administrator at Belmont.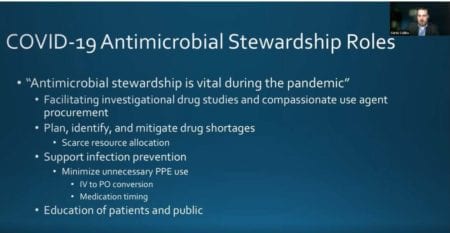 Although the COVID-19 pandemic presented a challenge, the planning committee ensured that the symposium would capture the same enthusiasm, connection and innovation that attendees have come to expect from the symposium each year. Although an in-person symposium was not possible due to social distancing restrictions, this year's virtual symposium utilized a flexible and creative learning format to connect health professionals from across Tennessee and several other states who are passionate about Infectious Disease (ID) work and Antimicrobial Stewardship (AS). By sharing current evidence and clinical pearls, attendees learned from one another about the grassroots and community work that is happening in this field on a daily basis. As in years past, esteemed ID and AS experts from diverse professional backgrounds provided engaging and timely education via "podium," roundtable and poster presentations. 
Morning sessions featured a lineup of experts. Timothy Gauthier, PharmD, BCPS-AQ ID, Antimicrobial Stewardship Clinical Program Manager at Baptist Health South Florida in Miami, Florida presented "Staying In the Know: How Healthcare Professionals Can Use Social Media to Keep Up With the Leading Edge of Medicine." Jamie Kisgen, Pharm.D., BCPS, BCIDP, Pharmacy Manager, Infectious Diseases Services & PGY1 Residency Program Director at Sarasota Memorial Health Care System in Sarasota, Florida presented "Don't Fall Into A Trap: How To Implement Vancomycin AUC-Guided Dosing In Your Hospital." Curtis D. Collins, PharmD, MS, BCIDP, FASHP, Pharmacy Specialist – Infectious Diseases at St. Joseph Mercy Health System in Ann Arbor, Michigan presented "Unprecedented Times: Antimicrobial Stewardship and Pharmacy Response During the COVID-19 Pandemic."
During the afternoon, participants attended roundtable and poster sessions led by pharmacists, physicians and nurses, allowing them the opportunity to discuss topics in a small group format. Topics included AS programs in emergency medicine and outpatient settings, strategies for outbreak management, various difficult case scenarios and telehealth, among many others.
Planning committee team member Dr. Kathryn Dambrino, Belmont assistant professor of nursing and nurse practitioner, said she is proud this year's symposium offered an opportunity for connection and learning during a time when connection is scarce.
"By creating a space where individuals from varying disciplines could come together and share their unique knowledge and experiences related to infectious disease and antimicrobial stewardship, we hoped participants would leave the symposium feeling inspired and empowered to apply new concepts and implement new strategies at their respective programs," she explained. "It is exciting to see more professionals becoming engaged in this field, and I believe this engagement will continue to facilitate innovative ideas that improve patient outcomes and healthcare system utilization."