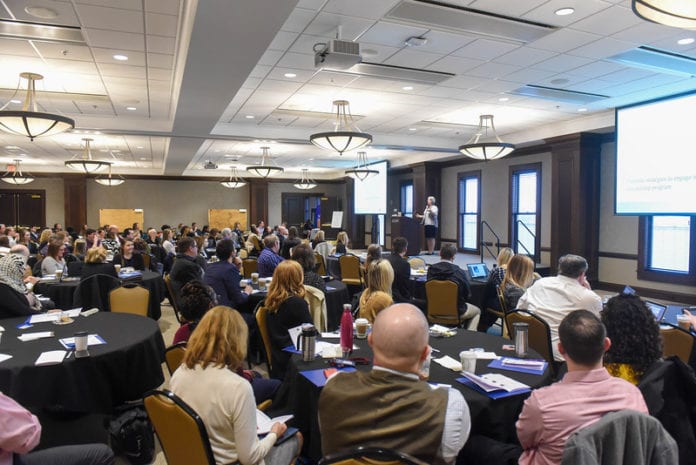 Belmont University's College of Pharmacy hosted the Fourth Annual Middle Tennessee Antimicrobial Stewardship Symposium on January 31 on Belmont's campus.
This symposium brought together key stakeholders and practitioners to learn and discuss ways to work together as a medical community to improve appropriate antimicrobial use and mitigate risks. The symposium was attended by 150 healthcare professionals from multiple disciplines including pharmacists, physicians, nurses and those involved with infection prevention and patient safety and quality from 9 states and more than 60 healthcare facilities.
Dr. Gerald B. Hickson, MD, Joseph C. Ross Chair in Medical Education and Administration, professor of pediatrics and founding director of the Center for Patient and Professional Advocacy at Vanderbilt University Medical Center, spoke as the keynote.
Hickson led the group to think about the pursuit of professional accountability, aiming to identify behaviors in the work place that undermine a culture of safety and respect. He described a tiered intervention model to address variations in clinical performance and promote the safe use of antibiotics.
"If we are going to produce the quality of health care we expect today, we are going to have to start dealing with the human side of things again and having the courage to give feedback," he said. "The practice of medicine is inherently stressful; the question is: what is the plan? This requires us to be actively engaged, which goes back to the pursuit of professionalism."
Dr. Montgomery Green, associate professor of pharmacy practice at Belmont, said hosting the symposium at Belmont for a fourth year was an exciting privilege. "We continue to see a growing interest in this area, and the passion for providing best patient care that the attendees and speakers share is palpable. We hope that participants took back a renewed energy to implement change in their practice, as well as some concrete examples of how to do so. As a practitioner and a faculty member, the opportunity to share ideas and opportunities for growth with fellow practitioners is one of the highlights of my year."
The event was planned and hosted by Green; Dr. Kelly Byrge, assistant professor with Vanderbilt University School of Medicine, Dr. Shaefer Spires, assistant professor of medicine with Duke University, Dr. Kathryn Dambrino, assistant professor with Belmont School of Nursing, Dr. Athena Hobbs, infectious diseases clinical pharmacy specialist with Baptist Memorial Hospital, Dr. Christopher Evans, pharmacist with the Tennessee Department of Health, and Laura Hyde, continuing education coordinator at Belmont.
The committee planned the symposium with three goals in mind. First, to provide a venue for the many professionals who are doing Infectious Disease (ID) work either with or without previous training to come together, learn from each other and realize there is no one way to implement a particular Stewardship intervention. Second, to highlight the grassroots and community work happening on a daily basis. The committee hoped to innovate by "taking advantage of the collective creativity of all of us in the trenches." Lastly, to provide education from experts in the field of Antimicrobial Stewardship (AS) or Microbiology or ID in a manner that is not readily available to "boots on the ground AS Programs."
Morning sessions featured a lineup of experts in antimicrobial stewardship. These included Milner Staub, MD, VA quality scholar and clinical instructor at VA Tennessee Valley Healthcare System and Vanderbilt University Medical Center; Rita Drummond Olans, DNP, RN, CPNP-PC, APRN-BC, assistant professor and NP hospitalist at MGH Institute of Health Professions and Spaulding Hospital in Boston, Mass.; Tufik Assad, MD, MSCI, director of the critical care unit and lung nodule clinic at Williamson Medical Center; and Athena Hobbs, PharmD, BCIDP, infectious disease clinical pharmacy specialist at Baptist Memorial Hospital.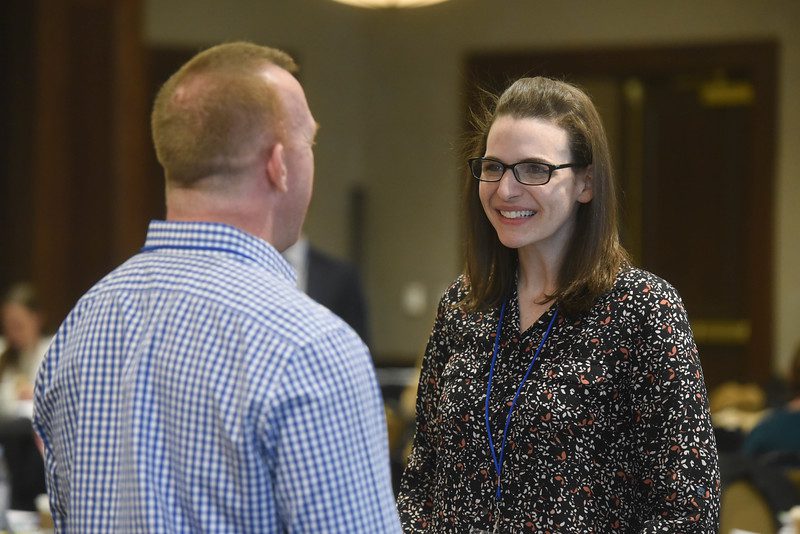 During the afternoon, participants attended workshop sessions led by pharmacists, physicians and nurses, allowing them the opportunity to discuss topics in a small group format. Topics included containment strategies, AS programs in long-term care facilities and outpatient settings, communication with patients, among many others.
Co-Director Kelly Byrge, MD, said it was a privilege to be involved in this year's symposium, which continues to serve as a collaborative forum for those involved in antimicrobial stewardship throughout the region. "By bringing together participants from varying disciplines with unique knowledge and experiences, we hoped to provide the inspiration and concrete tools needed to implement new strategies at their respective programs. As this field continues to gain momentum, it is inspiring to see its impact on improved patient outcomes and optimization of healthcare resources."