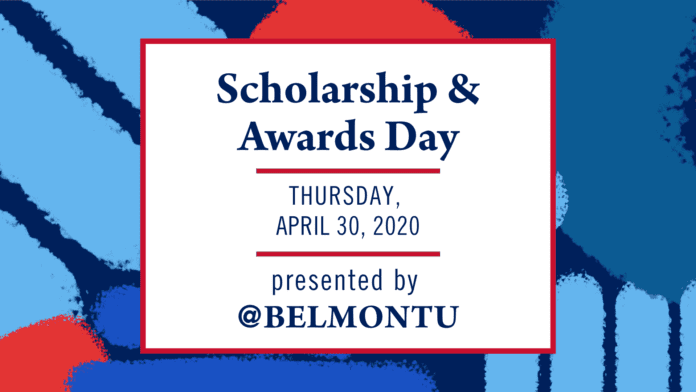 Belmont's top students and faculty were celebrated in a different way than normal this year as the annual Scholarship and Awards Day was held via the Belmont University Instagram account. Finalists were honored for their commitment to the University's mission and dedication to scholarship, service and leadership.
Provost Dr. Thomas Burns introduced the awards ceremony on the Belmont Instagram stories by saying, "Although we cannot celebrate together, I wanted to make sure we keep the tradition alive of celebrating scholarship and awards of faculty and students, recognizing the incredible achievements they have made, even if we do it virtually. By continuing the tradition of Scholarship and Awards Day, we are reaffirming our commitment to learning and discovery by honoring those who have exhibited extraordinary dedication to scholarly achievement."
Each year, the presentation of the John Williams Heat of Belmont Award is greatly anticipated. The award honors one third year or fourth year student who embodies Belmont's values, including innovation, persistence, advocacy for change, community development and service.
This year's recipient, Hailey Brooks, is a nursing major who will graduate this May. In 2018, she received the Court Appointed Special Advocate (CASA) Light of Hope Award, which honors those who have been lights of hope to children and youth in the community through their advocacy and through making a difference. She also serves as a member of the Tennessee Commission on Children and Youth and has been involved in other foster care advocacy positions for many years. She served as a Youth Village Peer Advocate as part of the Department of Children's Services Advisory Council and is also a Jim Casey Fellow.
In reference to her accomplishments, Brooks stated, "I am very proud of these titles and these groups I've worked with. However, most importantly for my story, I'm a foster care child. I say that with pride; I'm among the one percent of foster children who graduate college and help break the stereotypes around foster youth. Today, that's my biggest accomplishment."
As part of this award, a donation will be made in Brooks's name to CASA.
Other students honored in Thursday's ceremony included:
The Williams-Murray First Year Writing Award
Chasity Donald for the essay "Who you think you talkin' to? An In-depth Look at Code Switching and its Effects in African American Society"
Grace Usleman for the essay "Adventures in Birding: Lessons of Mindfulness, Coping and the Natural World"
The Alfred Leland Crabb Awards
First Prize: Sarah Anne Pfitzer for her work "'Different From All': Disability and Resistance in Lee Smith's Fair and Tender Ladies"
Second Prize: Amanda Tigar for her work "The Goodness of Girls"
The Stacy Awalt Writing Award: James Chadwell for his research essay, "The Unity of Wittgenstein's Early and Late Works"

The Annette Sisson First Year Seminar Award: Elijah Sheets for his essay: "White Noise: Tangible Death"

Lumos Travel Award: Kelsey Beyeler, Ben Rogers, Anas Saba and Elise Sanford

The Dr. Fannie Hewlett Award
Undergraduate Recipient: Senior Christine Allen
Graduate Recipient: Third Year Pharmacy Student Ashontae Johnson
The Inaugural Belmont Graduate-Student Scholarship Award: Livia Linden

The Inaugural Belmont Graduate-Student Leadership Award: Lauren Addison
Hale First Year Leadership Award: Vance Mazure

Hale Second Year Leadership Award: Daniel DeForest
Hale Third Year Leadership Award: Kevin Botros

Hale Fourth Year Leadership Award: Sarah Anne Pfitzer

John A. Williams Heart of Belmont Award: Hailey Brooks and Community Partnership: Tennessee CASA
In addition to student award winners, a number of awards were given to faculty members. The Christian Scholarship Award honors faculty scholarship that engages the Christian intellectual tradition and advances the scholarly conversation between Christian faith and learning. This year's recipients were Dr. Douglas Murray and Dr. Jonathan Thorndike from the English Department.
The Leadership in Christian Service Award honors a faculty member who provides leadership to a new initiative or an established Christian organization that serves those in need. This year's recipient was Dr. Jeremy Fyke, Communication Studies Department.
The Faculty Award for Scholarship recognizes a faculty member for outstanding intellectual and creative contributions of discovery, integration, application or teaching. This year's finalists included Physics Associate Professor Dr. Scott Hawley, School of Music Assistant Professor Dr. Virginia Lamothe and Occupational Therapy Associate Professor Dr. Teresa Plummer, and the recipient was Associate Professor of Economics Dr. Colin Cannonier.
Dr. D. Lee Warren, professor of accounting, was named the 2019-20 Chaney Distinguished Professor. The Chaney Distinguished Professor Award, determined on the basis of superior teaching, is presented each year to a faculty member who best represents the vision of the university to be a "premier teaching institution." Award finalists also included Dr. Michelle Corvette, Art Department, Dr. Ken Spring, Sociology Department, and Dr. Chris Barton, Biology Department.
Dr. Jennifer Crowell, assistant professor in the Social Work Department, received the Presidential Faculty Achievement Award. This award is presented each year to a faculty member who has made outstanding contributions to student life outside the classroom. Other finalists included Dr. Ryan Fox, Mathematics and Computer Science Department, Dr. Francesca Muccini, Foreign Language Department, and Dr. Eric Holt, College of Entertainment and Music Business.