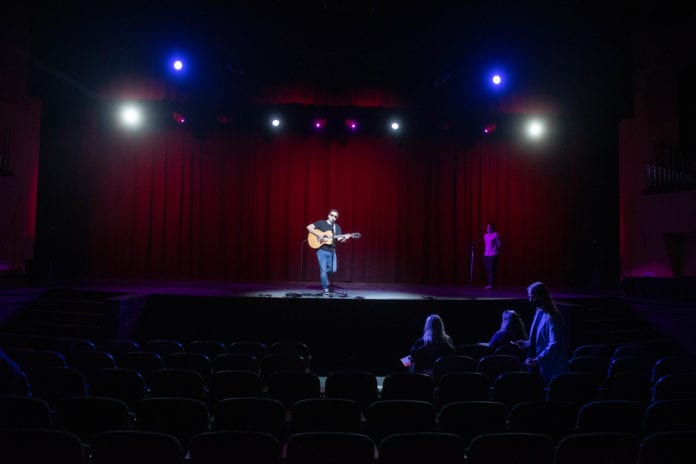 After a tough year for many due to the global pandemic, a group of Belmont University alumni found a way to garner attention, support and financial assistance for struggling local music venues across Nashville by doing something nobody else has done before. Belmont alumnus and musician James Hatem, with the help of his team of fellow Belmont alumni, attempted to break the Guinness World Record for most shows performed in 24 hours on April 9. Money raised from the project will go directly to Music Venue Alliance Nashville and the U.S. Bartenders Guild to be dispersed among the venues.
The 80 destination venues across the city included four on Belmont's campus: Massey Concert Hall, Harton Recital Hall, McAfee Concert Hall and the Curb Event Center Arena. Other venues ranged from smaller stages such as The Basement, EXIT/In and City Winery all the way up to the larger venues like Ascend Amphitheater and Bridgestone Arena, hence the project's name "Basement to Bridgestone Arena." The goal was to beat the current record of 65 venues in 24 hours, set in 2012 by Norwegian band Helge Toft.
Belmont entertainment industry studies alumnus Mitchell Curley, class of 2017, currently works as Hatem's manager and had the idea last year to break a world record, hoping to do something cool for the city. Curley had worked on the management team for the rock band KISS, which had also recently broken a world record in Dubai. He knew he could make another record happen in Nashville. Curley brought in fellow music business and entrepreneurship alumnus Gade Raftery, class of 2020, who started his own concert promotion company, Apogee Promotions, in 2018.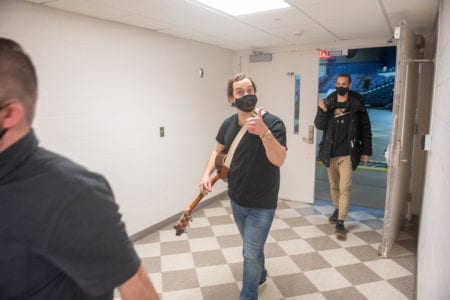 Raftery explained it all started coming together when he met Hatem's co-manager Matt Kimble, another 2020 music business alumnus, while collaborating on a podcast. He said, "I went to their office and this conversation got started because Matt introduced me to Mitch as 'the guy who books all the venues in town.' Apogee books everything from the Basement all the way to Marathon, so we thought that was a good start to know at least 30 venues or so personally."
Raftery implemented his local venue connections and brought in two 2020 audio engineering technology alumni, Nick Molloy and Ben McNamara, to work on production. "So Mitch, James, Matt, me, Nick and Ben, we are all Belmont alumni and started steering the ship forward with Mitch as our leader. So it's a very exciting project with a lot of people who don't always work together. So it's been cool to work with other Belmont alumn."
The project started there and grew exponentially with the amount of people needed to pull it off. Other team members included Belmont alumni Danny Allebach, entertainment industry studies major with music business minor, class of 2017; Becca Tremmel, songwriting major, class of 2017, Timothy Mlynarski, commercial voice major, class of 2016; and current creative entertainment industry major and music business minor Lindsay Cashman.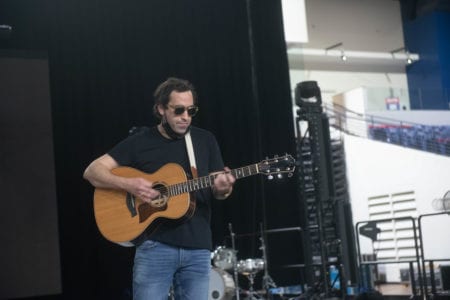 "We sat down and started listing every place you can play music in Nashville, and there is a ton. Obviously we will be hitting some of the restaurants with a stage in a corner, but we really wanted to focus on the clubs and venues who have struggled this year. This is to raise awareness and money for the city of Nashville; that's the whole point of this," said Raftery. "From there we developed our route down to the minute – there are only an average of four minutes between each stop or something like that. Each set will be exactly 10 minutes before we head to the next venue."
The team will have plenty of cameras rolling and be working to fill all the criteria required to break the record, collecting signatures from each venue and more. The team feels confident that if all venues are played and all the steps are taken, they will break the record. However, it takes 12 weeks to get final approval and receive the official record. But, the team will partner with Music Venue Alliance Nashville to return to the venues in need the next week to present the donations.
While each show will have two live audience members, they will also be livestreamed throughout the day thanks to a partnership with tuneden, and people can follow along on the project's Instagram account and TikTok account, as well.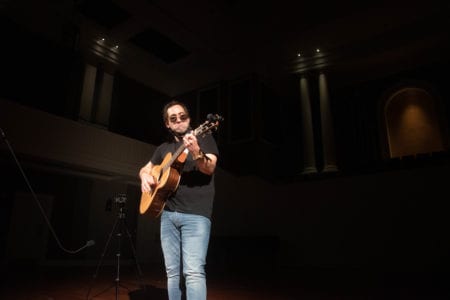 The project complied with all CDC guidelines, with team members wearing personal protective equipment and undergoing COVID tests before the big day.
"The fact that we are able to shoot for 80 venues is, I think, the cool part about it. You know, New York has a lot of great venues and there are a lot of cool places like Austin that have great music bars, kind of like we have on Broadway. But that is what is special about Nashville," Raftery said. "We are trying to show that we can truly play everything from a very small club or bar that has music, all the way up to professional arenas and amphitheaters. There's not anywhere else in the world that you could really do that, and that's why we're able to do it in 24 hours."
To make a donation or learn more about the project, visit the Basement to Bridgestone Arena website.